Syria crisis: bombs hit security complex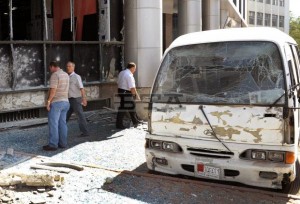 Dozens of people are reported to have been killed in two suicide bombings at an intelligence complex north-east of Damascus. The Islamist group the al-Nusra Front said it carried out the attack in the suburb of Harasta using suicide car bombs loaded with tonnes of explosives.
Here is summary of other developments in Syria
• Syrian rebels are threatening to attack Hezbollah's stronghold in the southern suburbs of Beirut if the Lebanese Shia organisation does not stop supporting the Assad regime, according to a Saudi-owned newspaper. Kamal Rifai, a Lebanese MP from the Hezbollah bloc has denied that the organisation is fighting alongside government forces in Syria.
• Nato's secretary-general Anders Fogh Rasmussen says the alliance has plans in place to defend Turkey against attack if needed. But speaking to reporters he also praised Turkey's restraint after a series of crossborder mortar attacks. Turkey, meanwhile, has sent more fighter jets to reinforce an air base in the south-east of the country.
• UN special envoy Lakhdar Brahimi will go to Syria this week to try to persuade Bashar al-Assad's government to call an immediate ceasefire, secretary-general Ban Ki-moon has told a news conference in Paris.
• President Assad has appointed a new Syrian ambassador to Iraq, replacing Nawaf al-Fares, who defected in July.
• Syrian rebels claim to have taken control of Maaret al-Numan, a town in Idlib province which has strategic importance because it lies on the Damascus-Aleppo highway.
• Iraq has been supplying fuel oil to Syria, according to documents seen by the Financial Times.The deal is likely to further anger the US, which has been trying to persuade Iraq to stop allowing Iranian arms supplies from reaching Syria via its airspace.
• The often fractured Syrian National Council is set to unveil a major makeover next week to make it a broader coalition of opposition groups, AFP reports, citing opposition member Louay al-Safi. He said: "The most important point which will be discussed is restructuring the bloc and expanding it as a further step towards uniting the Syrian opposition under a broader framework."
• Three crates of Ukrainian weapons addressed to Saudi Arabia have been uncovered by the BBC's Ian Pannell in Aleppo. Saudi Arabia has refused to comment, it said.
Guardian