Turkey unlikely to invade Syria despite the saber rattling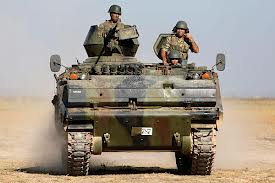 Even as Turkish Prime Minister Recep Tayyip Erdogan pushed a bill through parliament on Thursday authorizing his armed forces to conduct operations across the border in Syria, both countries played down the possibility of a war that could oblige NATO to Turkey's aid.
"The bill is not for war," said Turkish Deputy Prime Minister Besir Atalay, after opposition lawmakers branded the proposal a "war bill." Instead, he insisted, its purpose was "deterrence," following a mortar attack from Syrian soil on Wednesday that killed five people in the Turkish border town of Akcakale.
The measure is valid for a year and gives the government power to launch an attack without first seeking parliamentary approval. Turkish forces have shelled Syrian positions over the past two days and, according to Syrian opposition groups, that barrage has killed "several" Syrian troops.
Despite the saber rattling, however, indications are that the Turkish side will be careful to avoid serious escalation, as will Syria. Atalay took care to point out to his domestic audience that "the Syrian side has admitted what it did and apologized" through U.N. mediators.
"There is an ever-widening gulf between what Turkey says and what it can actually do," says Soli Ozel, an international-relations professor at Kadir Has University. "The bill was designed to let off steam for Erdogan, who has put himself in a spot from which he cannot climb down."
Once a close friend of President Bashar Assad — their families even vacationed together — Erdogan became one of the Syrian regime's most vocal critics shortly after the uprising began. Turkey regularly hosts members of the Syrian opposition and houses some 100,000 Syrian refugees in camps in the southeast. It also provides sanctuary to the leadership of the Free Syrian Army, an insurgent group led by mutineers from Assad's army. But Ankara's oft-repeated call for a Western-led military operation to establish no-fly zones and protected enclaves on the ground in the northern Syrian border has met little support from its NATO allies. And while the U.S. was quick to condemn Wednesday's attack by Syria, it remains preoccupied with its presidential election and even beyond November is unlikely to develop any appetite for new military involvement in the Middle East.
A solo military intervention in Syria by Turkey remains unlikely for a number of reasons ranging from the capabilities of the Turkish armed forces to the problem of an endgame, with the high risk that such an intervention draws Turkey into a second open-ended insurgency besides the one it already faces within its Kurdish population — and from the emerging autonomous Kurdish enclave in Syria. Turkey also depends on Syrian allies Russia and Iran for its natural-gas supplies and is unlikely to risk incurring their wrath. And Erdogan, who was re-elected with more than 50% of the vote last year, is also in a tight spot at home where polls show that only about 18% of Turks support his policy on Syria.
"We've reached a critical point," wrote columnist Melih Asik in the centrist paper Milliyet. "We're not only up against Syria, but also Iran, Iraq, Russia and China, which support Damascus. Behind us, there is nothing but the provocative attitudes and empty promises of the United States."
NATO ambassadors met late on Wednesday, issuing a statement condemning the attack and demanding the immediate end of "aggressive acts against an ally." The 28-nation group said the attacks presented "a clear and present danger" to the security of one of its allies. But there was no further intimation of retaliation.
Thursday's attack was not Syria's first cross-border violation, but the deaths of five civilians — two women and three children — had raised tensions to a boiling point. Turkey responded with retaliatory fire, and the two countries have since been tit-for-tat shelling.
"The negative impact of the ongoing crisis in Syria on our national security is more and more visible," Erdogan said in the bill he submitted to parliament. "The aggressive actions targeting our national lands are at the threshold of armed attacks … For that reason, it has become necessary to take precautions in a timely and quick manner against additional risks and threats facing our country."
Last July, Syria had downed a Turkish fighter jet that Ankara said was on a training flight in international airspace, killing its two pilots. Turkey subsequently reinforced its border with antiaircraft missiles and threatened to target any approaching Syrian military elements.
"What's happening with Syria," says Ozel, "is just another installment in the bankruptcy of Turkey's foreign policy." Before the Arab Spring, Turkey had made improving its relationship with Syria a centerpiece of its new regional foreign policy dubbed "zero problems with neighbors." Ankara hoped to become a regional power broker, expanding its influence in the former Ottoman provinces that span much of the contemporary Middle East. But limits of that policy became clear when the Syrian uprising began, and Erdogan threw his weight behind the effort to topple Assad. That in turn has cooled ties with Russia and, together with Turkey's interventions in Iraqi politics, also exacerbated tensions with both Baghdad and Tehran.
Many Turks believe the upsurge in attacks by the Kurdish separatist Kurdistan Workers' Party insurgents in Turkey's southeast reflects Assad's response to Turkey's support for his overthrow, as well as fear that escalating hostilities could hurt the country's economy and drag it into a regional conflict it will be unable to control.
In explaining Thursday's vote, Atalay said Turkey's "main priority" remained to "act together with the international community." That in itself suggests Turkey is not about to go to war in Syria.
world.time.com