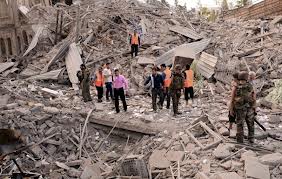 For the second straight day, the Turkish military pounded targets inside Syria on Thursday in retaliation for a mortar attack a day earlier that killed five civilians in Turkey. The shelling came as the Parliament in Ankara debated measures permitting cross-border raids while senior officials insisted that NATO ally Turkey did not want a war with its Arab neighbor — which could turn Syria's bloody civil strife into a regional conflict with international involvement.
Local news reports said Turkish shells fell inside Syria on at least 10 occasions after midnight, landing near the border town of Tel Abyad, some six miles inside Syrian territory, across a historic fault line where modern Turkey abuts Arab lands that once formed part of the Ottoman Empire.
State television said the shelling continued until dawn with four more barrages until the guns fell silent around 6:45 a.m. Activist groups in Syria said the shelling killed several Syrian government soldiers.
The exchanges sent tremors across a region fearful that the mounting violence in Syria will spill into neighboring countries. Ibrahim Kalin, a senior aide to Prime Minister Recep Tayyip Erdogan, said in a Twitter feed: ""Turkey does not want war with Syria. But Turkey is capable of protecting its borders and will retaliate when necessary." In a separate message, he said: "Political, diplomatic initiatives will continue."
The North Atlantic Treaty Organization, to which Turkey belongs and whose charter calls in some cases for collective action when one of its members is targeted militarily, met Wednesday night to discuss the crisis, as Turkey's civilian and military leaders said Parliament would consider a motion on Thursday to permit further military action within Syria.
The main opposition party called the bill a "motion for war" and said it would vote against it. Mr. Erdogan's government has the majority to approve the measure, similar to existing legislation permitting hot-pursuit raids to attack Kurdish rebel sanctuaries in Iraq.
"Turkey is not a country wishing for war, but peace," Omer Celik, a senior government official, said in a televised statement before the parliamentary debate, but he called on all parties to support what he called a measure to protect Turkey's sovereignty.
While Syria has offered condolences to Turkey over the death of its civilians and has said an investigation was under way, Mr. Celik said that the "words of a regime killing its own people cannot be taken into account."
He called the government of President Bashar al-Assad "a massacre network" and declared: "We are not in a position to take seriously anything this massacre network says."
In a statement carried by the semiofficial Anatolian News Agency on Wednesday, Prime Minister Erdogan's office said the "atrocious attack was immediately responded to adequately by our armed forces in the border region, in accordance with rules of engagement."
The statement added: "Targets were shelled in locations identified by radar." While suicide bombers killed dozens on Wednesday as violence surged in Syria's largest city, Aleppo, it was the cross-border strike that raised the stakes in a civil war that has left tens of thousands dead and forced more than a million people from their homes. The war has defied exhaustive diplomatic efforts by the global community. The events may increase pressure for the West to take military action, something Turkey has supported. The United States and its allies have balked at engaging in another armed conflict in the Muslim world that would be far riskier than NATO's intervention in Libya, which helped oust Col. Muammar el-Qaddafi.
"The conflict in Syria is spilling well over its borders," said Andrew Tabler, a Syria analyst at the Washington Institute for Near East Policy. "I don't see how the Obama administration continues policy as usual after this."
But in the fog of war that has settled over Syria, where allegiances and motives are uncertain and a bloody stalemate has taken hold, some observers said they could not help wondering if the episode had been orchestrated by one side or another. The rebels have implored NATO to provide a no-fly zone or havens, and Mr. Assad may feel he can rally his supporters against foreign invasion, experts said. "Various parties are trying to pull Turkey into the conflict," Atilla Sandikli, the director of the Wise Men Center for Strategic Studies in Ankara, Turkey, said on the Turkish channel NTV.
In Washington, George Little, the Pentagon press secretary, called the Syrian attack on Turkish territory "yet another example of the depraved behavior of the Syrian regime, and why it must go."
Secretary of State Hillary Rodham Clinton said she was "outraged" by the mortar attack in Turkey.
After its meeting, NATO issued a statement saying the alliance continued "to stand by Turkey and demands the immediate cessation of such aggressive acts against an ally, and urges the Syrian regime to put an end to flagrant violations of international law."
Turkey's military strike within Syria, which represented a further deterioration of relations between the onetime allies, came after several huge explosions struck a government-held district of Aleppo. The blast killed dozens of people and filled the streets with rubble in a square near a public park, according to video, photographs and reports from the Syrian government and its opponents.
At least two explosions, which both sides said appeared to be car bombs, struck Saadallah al-Jabiri Square near an officers' club and two government-owned hotels that residents said had housed pro-government militiamen who had essentially taken over the square. Another explosion struck near the chamber of commerce in nearby Bab Jenine, both sides reported.
Jabhet al-Nusra, an insurgent group affiliated with Al Qaeda, claimed responsibility late on Wednesday for the suicide bombings, which caused anguish for government supporters and opponents alike. The scale of Wednesday's bombings seemed to deepen Aleppo's sense of alarm and disgust, bringing expressions of horror and bewilderment from people on either side of the conflict.
"Oh, my God, the destruction is huge," an accountant who works nearby, who asked to be identified only by his first name, Rami, said on his cellphone as he tried without success to approach the square, which he said was barricaded by security forces. Back in his office, listening to gunfire still echoing through the area, he wrote on Facebook: "My soul has died and my body is waiting for its turn."
One Syrian activist, who uses the pseudonym Anonymous Syria, wrote on Twitter: "Whoever is behind those explosions is a terrorist if civilians were killed. Whether it is the regime, Al-Nusra brigade or the Free Syrian Army."
In the square, men simply shouted obscenities and cursed "the terrorists' fathers." Their voices could be heard in the background as another man videotaped the bomb scene for a pro-government YouTube channel, panning over the corpses of two men in crisp camouflage uniforms who he said were would-be suicide bombers killed by security forces.
Before the retaliatory strike by Turkey, the government said in a statement that its foreign minister, Ahmet Davutoglu, had consulted Lakhdar Brahimi, the United Nations and Arab League joint special envoy to Syria, as well as Ban Ki-moon, the secretary general of the United Nations. The prime minister's statement said the strike was within the rules of engagement established after the Syrian military shot down a Turkish warplane in June, killing two pilots in international airspace over the Mediterranean Sea. Syria had claimed the plane was flying over its own territory.
"This last incident is pretty much the final straw," said Bulent Arinc, Turkey's deputy prime minister, as quoted by the Anatolian News Agency. "There has been an attack on our land and our citizens lost their lives, which surely has adequate response in international law."
The Syrian government urged restraint and offered condolences to the victims in Turkey. By announcing that an investigation was under way, it suggested that it never intended to strike within Turkey.
Syria's minister of information, Omran al-Zo'aby, suggested on state television that Syria was defending against a regional threat that could affect Turkey and Syria.
"The Syrian-Turkish border is a long one and is being used for smuggling weapons and terrorists," he said, adding that in response to border episodes, neighboring countries should act "wisely and rationally and responsibly, especially in cases of the presence of armed terrorist groups who have their different agendas that are not targeting the Syrian national security but the regional security."
It was unclear if the mortar that struck Turkey was fired by government forces or by rebels fighting to oust the government of Mr. Assad, but Turkey believed it came from a government position, Turkish analysts said. The government said it used radar to select the target for its strikes, believed to be Syrian military outposts.
The shell that set off the outrage struck a building in Akcakale, one of the largest cities along Turkey's 550-mile border with Syria, killing a woman, her three children and a relative. Officials said that eight other people were wounded, and that two were in critical condition. The town had been hit before amid the clashes between rebels and government forces, but no one on the Turkish side had been killed before. Stray mortars have also landed across other borders, including Lebanon and Iraq.
The tit-for-tat bombings signaled the collapse of the relationship between Syria and Turkey, which had blossomed before the Arab revolutions with deepening commercial and political ties between the two countries. When protests broke out last year in Syria, Turkey first called for reform, but as the government turned its guns on its own people, Turkey switched allegiance to the rebels.
But Turkey has paid a price, including a public outcry against its Syria policy, which has led to economic hardships in the south and a strain on government resources as officials contend with the refugee crisis.
NY Times