Sidon's 'trash mountain' to become a green park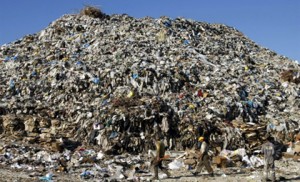 The Lebanese city of Saida is known for its historic ruins dating to the 5th century BC. It also is known for its giant garbage dump, which residents call "trash mountain." The mountain has grown steadily for more than 30 years, and city residents, tourists and environmentalists say it is a growing source of frustration to them.
This so called trash mountain will soon become a park.
The project to rehabilitate Sidon's trash mountain and turn it into a green park has been launched on the 20th anniversary of the first Earth Summit held in 1992. In a ceremony held near the garbage dump on the maritime boulevard of Martyr Rafik Hariri, the project's agreement was signed between the Ministry of Environment and the United Nations Development Program (UNDP) in the presence of Sidon MPs Bahia Hariri and former PM Fouad Siniora .
Environment Minister Nazem Khoury as well as Hariri and Siniora praised the initiative, stressing that Sidon's residents have been waiting for this step for too long.