Mikati pushing for an electoral law based on proportionality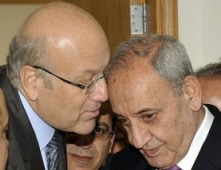 Lebanon Prime Minister Najib Mikati said on Tuesday following a meeting with Speaker Nabih Berri that an electoral draft law based on proportional representation is the "most suitable" voting system for Lebanon.
Mikati added that "the electoral law that needs to be approved should be in accordance with the Taif Accord, as it should also secure the accurate representation of all factions."
Lebanon's Cabinet approved earlier in August a new electoral draft law that called for proportional representation and divided the country into 13 districts.
Lebanon was divided into the following electoral districts:
Beirut 2, south Lebanon 2, Bekaa 3, north Lebanon 3 , Mount Lebanon 3.
The new electoral law was approved by the majority of ministers, including the FPM ministers . The ministers that represent Progressive Socialist Party leader MP Walid Jumblatt's bloc voted against it.
MP Alain Aoun along with FPM MP Neemtallah Abi Nasr also submitted another draft electoral law . This is the so called "Greek Orthodox gathering proposal" which calls on each sect in Lebanon to vote only for its candidate in the elections based on proportional representation and one electoral district for the whole country .
March 14 Christian MPs Georges Adwan, Boutros Harb and Sami Gemayel submitted a draft electoral law based on 50 districts and winner take all majority to the Parliament's General Secretariat on Thursday morning, according to LBCI.
Jumblatt and his PSP MPs favor the current 1960 electoral law.
"If there was no new election law, there is the one currently present and we can hold polls based on it," Public Works and Transportation Minister Ghazi Aridi, a key member of Jumblatt's parliamentary bloc, said last Thursday in response to the draft proposal submitted by March 14 Christian MPs
The Joint Parliamentary Committees held a meeting on Thursday to discuss the electoral draft law ratified by the cabinet, in addition to other electoral law proposals submitted by the parliamentary blocs.
Speaker Berri was quoted by An-Nahar newspaper in remarks published on Monday that he will support any electoral law that the Lebanese Christian community decides to adopt.
According to observers it does not appear the Christian community as a whole will decide on one draft electoral law. While the March 14 Christian opposition leaders want smaller electoral districts that guarantee to them that their Christian MPs will be elected by their constituencies , MP Michel Aoun a close ally of Hezbollah prefers larger electoral districts and proportional representation because he could count on the Shiite vote to gain a maximum number of seats in the 2013 election. The observers are of the opinion that FPM presented the so called "Greek Orthodox gathering proposal" just as another option knowing it will not be approved by the Joint Parliamentary Committees.
The same observers strongly believe that while Hezbollah and its allies will benefit from proportional representation ( in Christian , Sunni and Druze dominated areas) , March 14 opposition and Jumblatt will be at a disadvantage if proportional representation is adopted , because the overwhelming majority of the Shiites vote for the candidates supported by Hezbollah and Amal.
PM Mikati was elected in 2009 by the March 14 voters, but because he has defected  in 2011 , this time he will most probably appear on Hezbollah -led March 8 ballots. According to observers Mikati has no chance in his electoral district unless the electoral law is based on proportional representation.