Iranian Group M.E.K. Now Off Terror List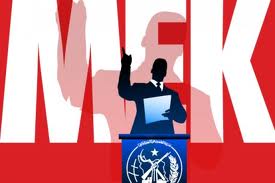 US Secretary of State Hillary Rodham Clinton formally removed an Iranian opposition group from the State Department's list of designated terrorist organizations on Friday.
The decision, first reported last week, is expected to make it easier to find new countries for more than 3,000 members of the group, the Mujahedeen Khalq, who are currently in Iraq.
The department took into account the group's public renunciation of violence and "the absence of confirmed acts of terrorism" by the group, known as the M.E.K., for more than a decade. But the department said it would not forget the M.E.K.'s past acts of terrorism, "including its involvement in the killing of U.S. citizens in Iran in the 1970s and an attack on U.S. soil in 1992." It also expressed "serious concerns" about accusations that the group had committed abuses against some of its own members.
NY Times