Iran claims right to retaliate, after Israeli PM speech at UN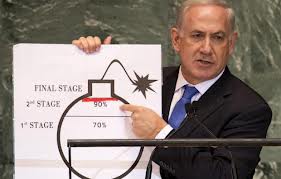 Iran has warned it is ready to retaliate against attack after Israel's prime minister urged a red line to be drawn over its nuclear program.
Benjamin Netanyahu told the UN time was running out to stop Iran having enough enriched uranium for a nuclear bomb.
In response, Iran's deputy UN ambassador said his country was strong enough to defend itself.
BBC