Syrian rebels push to oust Assad's troops from Aleppo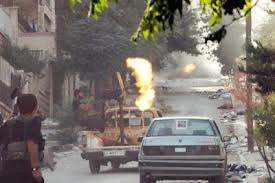 Syrian rebels have launched a major attack across Aleppo in an attempt to drive the forces of President Basher al-Assad out of the city.
Heavy fighting is being reported in 14 districts.
The British based Syrian Observatory for Human Rights says hundreds of insurgents are taking part in battles and the government is responding with artillery.
World leaders meeting at the UN have expressed their concern at the ongoing violence, which has left 30,000 dead in 18-months of killing.
More than 300 people are believed to have died on Wednesday making it one of the bloodiest yet.
The UN refugee agency fears as many as 700,000 will have fled the fighting by the end of the year.
Close to 300,000 have already left the country most housed in camps in Turkey, Lebanon and Jordan.
The agency says it is taking urgent measures to prepare for the coming winter as between 2,000 and 3,000 refugees head for safety by the day.
Euro News