Lebanon's Salameh: Syria crisis slowing economy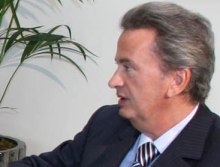 The growth rate of Lebanon's economy has roughly halved this year, reflecting the impact of the civil war in neighbouring Syria, the head of the country's central bank said.
In an interview with Lebanese daily Al-Safir published a week after the International Monetary Fund blamed government policy for the slowdown, Riad Salameh said the current annual growth rate was around 2-3 percent.
"The situation in the region, especially the events in Syria affect the Lebanese economy and banking activity." Salameh said, adding however that banking operations continued to expand.
Lebanon says its economy grew 5.2 percent in 2011, but economists are skeptical.
Salameh said annual inflation was running at around 4.5 percent but could rise before the end of the year due to wage hikes and changes in government spending.
Lebanon saw a period of rapid growth until 2011, when the economy ground to a halt in the first half of the year following a government collapse and fallout from the early stages of the uprising in Syria.
Salameh said he expected bank deposits to rise between 7 and 9 percent and loans by 10 percent.
"These are good indicators. And (bank) profits are the same as last year despite the difficulties experienced in the region," he said.
Last week, the IMF said Syria's war had so far had only a moderate impact on the Lebanese economy, and that it was concerned about weak government policies.
Businessmen and economists complain the government has been slow to reform state finances, improve infrastructure and stimulate economic growth.
One reason is sectarian tensions within the government, which have been worsened by the war in Syria.
Reuters