Jumblatt calls for cutting in half salaries of offcials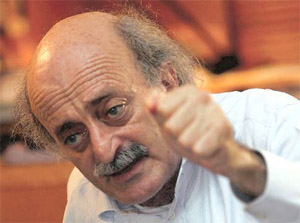 Progressive Socialist party (PSP) leader MP Walid Jumblatt called on Monday during an interview with Al-Liwaa newspaper for annulling the salary raise of Lebanese officials. He also suggested reducing their salaries by 50% to set a better example for the Lebanese citizens.
Jumblatt also said that some security apparatuses are requesting huge amounts of increases in their budgets describing this act as "shameful and unrealizable". He said such increases will drown the Lebanese state in a pool of deficits and injustice.
As-Safir revealed on September 12 that Lebanon's top ranking officials would each receive a salary hike of anywhere between LL 5.5 to LL7 million ( $3667 to $4667 ), a raise that could result in doubling their current wages and could cost the treasury an additional 9 billion LL annually ($6 million)
In addition to above As-Safir revealed that the public sector wage hikes will be as follows:
Category one employees : LL2.9 million ( $1934)
Category two employee: LL1.7 million ( $1133)
Category three employees: LL940,000 ($627)
Lowest ranking employees: LL210,000 ($140)
high-school teachers : LL1 million ($666)
elementary-school teachers LL789,000 ($526)
As-Safir also revealed that the wage hikes were approved by the cabinet despite president Suleiman's recommendation against any increases in salaries of presidents, deputies and ministers.