Syria Rebels to Use Captured Territory for Training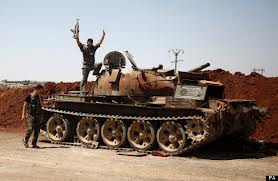 Syrian rebel fighters on the Turkish border are pushing ahead with a plan to turn territory in Idlib province that has been mostly under their control since early summer into a logistics and training base for fighters across the country.
The move, which could draw the regime's attention back to this swath of northwestern territory, shows how Syria's rebels are trying to consolidate control over pockets of liberated land along the Turkish border even as war rages farther north in Aleppo.
But it also comes as thousands of factions in the armed insurgency against Syrian President Bashar al-Assad compete for international support and local influence on the ground.
For months, local fighting groups assumed civilian governance in areas they have wrestled from regime control. Now, rebel fighters say they are intent on proving to world powers they can train fighters and unite disparate rebel groups using this territory as a haven.
"We are organized, we are effective, and we don't need anyone's help but God's," said Abu Zeid, a lawyer-turned fighter with one of three rebel groups guarding the newly taken Bab al-Hawa border crossing with Turkey.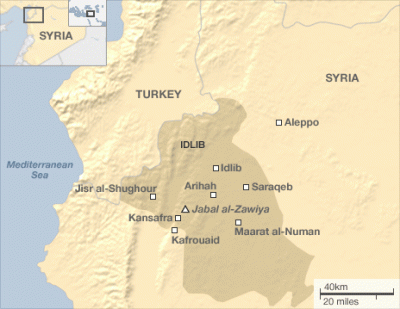 Rebel fighters claimed control of the crossing in mid-July after a 12-hour battle with government soldiers. They now control at least three other major crossings along the 565-mile border with Turkey, a key frontier for the passage of weapons and aid supplies to front lines in Syria through the provinces of Idlib and Aleppo.
Last Wednesday, they gained a new foothold into Syrian territory after capturing the Tal Abyad crossing at the northern Raqqa province. From Bab al-Hawa to Tal Abyad, rebels control about a 320-mile stretch of the border on the Syrian side.
These gains have threatened the military authority of the leaders of the Free Syrian Army, a nominal umbrella for fighters that is based in Turkey. The intensity of the fighting in Syria in recent months has bestowed the highest credibility on the most battle-hardened rebel brigades—most of them unaffiliated with the FSA—while alienating rebel and political leaders outside the country.
Rival leaders of the FSA, based in the guarded camp in southern Turkey where the highest-ranking Syrian army defectors live, separately announced over the weekend that they were moving the command for the rebel army into Syria.
The announcement, first made by Col. Riad al-Assad by video from inside Syria, and later confirmed by Brig. Gen. Moustapha al-Sheikh, appeared to be a bid to assert authority and catch up with the sprawling and splintering fighting force on the ground.
The two top defectors, who have ruled the umbrella group in an uneasy alliance since early this year but competed for foreign funds, are expected to base themselves in their hometowns in Idlib province but move frequently in and out of the country.
Their influence over fighting units outside of Idlib province remains tenuous, making their move into Syria a largely symbolic effort designed to appease Arab benefactors and Western powers urging rebel units to unite.
Inside Idlib, rebels say their toehold extends some 25 miles from the border into the province, territory in which some government checkpoints on roads connecting villages break the otherwise solid control of rebel forces.
Life has returned largely to normal in a cluster of villages as far as 10 miles from the border, minus frequent power cuts and idle children. In the town of al-Dana, where markets are bustling with customers from surrounding villages, residents wake up to the sound of jackhammers as construction workers resume work on new homes.
Villagers and fighters in the area have even felt safe from aerial bombardment, the military's latest tactic in rooting out rebels in Aleppo and other parts of rural Idlib. Many say they hadn't heard a jet or helicopter fly over since Turkey reinforced its military presence at the border in late June, after Syria shot down a Turkish fighter jet in the area on June 22.
"We were under threat from the regime's forces until the downing of the Turkish jet," said Abdelkadir, a defected first lieutenant leading Batallion 309, a unit in Tahrir Brigade, or Liberation Brigade, that is one of at least a handful of groups jostling for control in this village of 6,000 people. "Then we became reassured. We gained the courage to start training in the area."
The battalion held its training session at a course dug into the rolling hills, past beige tents that are the group's new headquarters. Down the road, a checkpoint of cinder blocks painted in the colors of Syria's rebel flag and another grouping of tents mark the territory of Ahrar al-Sham, an Islamist rebel faction gaining influence in Idlib.
Ahrar al-Sham has also recently set up training camps for its fighters. An inaugural, two-week course this month gathered some 40 fighters from across Idlib province, a 19-year-old who joined the training said. "The training included physical fitness, weaponry and religion," the fighter said. "We are going to try to focus more on guerrilla warfare, because some of us will be sent to Aleppo."
The widening of military activity here is a risky calculation for the local rebels trying to balance the demands of unifying their ranks inside Syria—mostly at the request of Arab and Western powers funding the rebel movement— with the rebuilding of civilian life in a dozen villages that dot the border with Turkey.
Rival secular and Islamist groups are competing for control in the smallest villages in Idlib. The rebels' success will depend on whether they can keep rivalries at bay, whether regime forces steer clear of the area, and—most significantly—how porous the Turkish border continues to be to shuttle in weapons and supplies.
"Even in the international media, we're beyond the illusion of the FSA and Col. Riad al-As'ad as its leader," said Khaled Ali, a spokesman for the Hama Military Council, which groups several fighting units and pledges allegiance to the FSA umbrella because, Mr. Ali said, "unfortunately most of the support still goes to the people outside."
"Some of us call ourselves FSA," he said, "but we know that we define what the FSA is on the ground."
WSJ