Aoun rejects ISF request to inspect his car that came under fire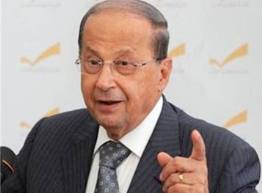 Internal Security Forces requested permission to inspect the car which reportedly came under fire yesterday in Sidon but General Michel Aoun rejected the request and was quoted as saying" this is not possible , the car is being used now".
Aoun's convoy passed late Saturday through the city of Sidon in southern Lebanon. Aoun later told his supporters in the town of Batroun in north Lebanon that his convoy was attacked in Sidon and he was subjected to his fourth assassination attempt.
The Free Patriotic Movement leader assured his supporters that those who attacked his convoy will be found . He added :" I don't know why they want to assassinate me ,I never killed anyone . All I am trying to do is fight corruption ."