IRAN SEEKS SOLUTION TO SYRIA CONFLICT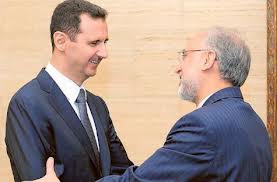 Iran's foreign minister has met embattled Syrian President Bashar al-Assad and called for a solution to the ongoing civil war, as a rights group accused Damascus of waging "relentless, indiscriminate" attacks against its own people.
Speaking in Damascus on Wednesday, Ali Akbar Salehi said the solution to the 18-month conflict lies "only in Syria and within the Syrian family".
The comments were made amid reports that two bombs had hit a Damascus suburb.
Salehi, who called this week for a simultaneous halt to the fighting by both regime and rebel forces, added that ending the conflict should be done in "partnership with international and regional organisations".
Following their meeting, Assad said the war engulfing Syria was targeting not only it but the "axis of resistance," a term Syria, Iran and Lebanon's Shia movement Hezbollah use to refer to their common opposition to Israel.
Assad also said "Syria has shown openness in dealing with all initiatives put forward to find a solution to the crisis. The key to any initiative's success is the sincerity of the intentions behind it".
Salehi said the country was "facing a problem, and we hope that this problem can be solved as soon as possible".
He also said "Syria has very strong, solid ties with Iran, especially at the political level," and that he would discuss the conflict with Syrian officials.
Salehi's call for an end to fighting came at a meeting in Cairo on Monday of the Syria "contact group". The group brings together Iran, Egypt, Saudi Arabia and Turkey.
Tehran, a staunch ally of Syria, is also proposing the four countries dispatch observers to Syria in an effort to quell the violence.
Last month, the United Nations withdrew its own observers after both sides failed to respect an April ceasefire to which they had committed themselves.
A new UN-Arab League envoy to Syria, Lakhdar Brahimi, said on a visit to Syria last week that the escalating conflictposed a global danger to the world.
Trita Parsi, head of the National Iranian American Council in Washington, told Al Jazeera that Iran would not want to see "Assad leave" but that it had "reconciled with the idea" he could be removed from power.
"They want to ensure that the next Syrian regime does not become pro-Saudi or pro-American, and that Iran does retain some level of influence," he said.
Salehi's meeting with Assad came hours after Amnesty International said in a statement that the Syrian army was targeting civilians indiscriminately.
"Civilians, many of them children, are the main victims of a campaign of relentless and indiscriminate attacks by the Syrian army," the London-based rights group said.
It said it had new evidence "of a pattern which has emerged in recent weeks in areas where government forces, pushed into retreat by opposition forces, are now indiscriminately bombing and shelling lost territory, with disastrous consequences for the civilian population".
Donatella Rovera from the group told Al Jazeera that she witnessed "evidence of indiscriminate air bombardment and artillery strikes" in all of the 26 towns and villages she visited in northern Syria.
"The number of civilians that have been killed or injured has increased dramatically," Rovera said.
And the former head of Syria's chemical arsenal, Major General Adnan Sillu, was quoted by a British newspaper the Times as saying he believed the regime would eventually use those weapons against civilians.
The Times reported Sillu, who defected from the Syrian army, said he had been involved in "serious discussion about the use of chemical weapons, including how we would use them and in what areas".
Sillu said he defected three months ago after being party to the top-level talks about the use of chemical weapons against both rebels and civilians, which he said he was convinced the regime would eventually do, according to the paper.
Al Jazeera