Analysis: A Void for Sunnis in Lebanon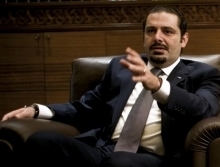 As spillover from the civil war in Syria continues to unsettle Lebanon, the prolonged absence of Saad Hariri, the country's former prime minister and leader of its Sunni community, has created a political vacuum of sorts, as his influence has declined and new voices have emerged.
Mr. Hariri, whose father, former Prime Minister Rafik Hariri, was assassinated in February 2005, has been outside of Lebanon for nearly a year and a half. Ousted from his position as prime minister at the start of last year by the March 8 coalition, led by Hezbollah, he now splits his time between Saudi Arabia and France. Security concerns, most say, are responsible for his self-imposed exile, though there have also been rumors in Beirut about financial difficulties.
The absence of Mr. Hariri, the head of the Future Movement, has left the Sunni population of Lebanon without its zaim, its leader. Traditionally from wealthy, powerful families, a zaim presides over large patronage networks, is seen as the protector of his sectarian community and commands high levels of loyalty. It is a position that stretches back centuries, but survives today in a political system still governed by sectarian identity.
Mr. Hariri remains the zaim of the Sunni community to most, but his continuing absence and the political moves that led to what was seen by many as a stumbling exit and the muting of his voice in Lebanese affairs of late have reduced his influence.
"It would be a mistake to suggest that Saad Hariri has lost his position entirely among Lebanon's Sunnis, but it's clear that his leadership has been called into question," said Elias Muhanna, the author of Qifa Nabki, an influential blog on Lebanese politics and a professor at Brown University in Rhode Island.
At the same time, many Sunnis in Lebanon have become more supportive of rebels in Syria, who are mostly Sunni, and more hostile and aggressive toward allies of Damascus in Lebanon, notably the Shiite Islamist party Hezbollah.
"I think there is a regionwide kind of Sunni awakening," said Imad Salamey, an associate professor of political science at the Lebanese American University in Beirut. "It is being reflected in Lebanon, where the Sunnis are taking a more and more militant role, and they are becoming more aware of their sectarian identity and linking their sectarian identity to their political demands."
The Sunnis are one of the three major sectarian communities in Lebanon, along with the Shiites and the Maronites, and dominate in cities that include Sidon and Tripoli. By an unwritten rule going back to 1943, a Sunni serves as prime minister in each electoral cycle.
The perceived lack of leadership among the Sunnis has led some to criticize Mr. Hariri.
"I don't know of a March 14 supporter who is not incredibly disappointed and frustrated — and even borderline insulted — by the political performance, the political strategy, even the political mind-set that Hariri has displayed over the past five years," said Saleh el-Machnouk, a rising young Sunni political activist, referring to supporters of the March 14 alliance, a broad political coalition to which Mr. Hariri's party, the Future Movement, belongs.
"These people feel humiliated, they feel frustrated, they feel like they have been let down, and worst of all they feel like there is no hope for a better future," Mr. Machnouk added.
Mr. Machnouk, the 28-year-old son of a Future Movement member of the Lebanese Parliament, first gained attention for enthusiastically supporting Syria's rebels at a time when most mainstream Sunni politicians hesitated to do so. Along with his confrontational calls for Hezbollah to disarm, this platform has lifted Mr. Machnouk from relative obscurity to popularity.
While perhaps more indicative of affinity with some of Lebanon's disgruntled March 14 youth than political power, Mr. Machnouk's Facebook page has garnered more than twice as many fans as Mr. Hariri's.
Mr. Machnouk says he is trying to set up a political organization that will be secular in outlook and draw support from a religiously diverse base. But he concedes that is no easy task and that it will take time. "The mind-set of people is geared toward assuming that if you are a politician and you are Sunni, then you are a Sunni politician," he said.
While he does not view himself as a Sunni politician, he champions causes that are on the minds of many in the Sunni community, to which most of his supporters belong. To a certain degree, Mr. Machnouk recognizes that by default, his message will be attractive to Sunnis. He said that he was looking to offer them an alternative political option, different from both the Future Movement and the puritanical Sunni radicalism of the Salafi sect.
One Salafi, Sheik Ahmed Assir, has gained notoriety in Lebanon this year by holding a monthlong sit-in in July along a stretch of highway in Sidon, south of Beirut, to protest the arsenal of weapons held by Hezbollah outside of government control. Like Mr. Machnouk, Mr. Assir has found that his political platform, based on supporting Syrian rebels and opposing Hezbollah, has quickly raised his profile.
"If most of the Sunni community is acting like I'm their zaim, in reality they are dealing with me because I'm vocalizing their pain," Mr. Assir said.
"The person who oppressed people in Syria is the same person who oppressed us, so therefore we are directly related to the revolution," he added.
When speaking of Hezbollah, Mr. Assir refuses even to use the name of the organization, which translates as the Party of God, considering it blasphemous.
"In the Koran, there are two parties, the Party of God and the Party of Satan — if you are not with the Party of God, you are with the Party of Satan," he said.
Secular-minded Sunnis dismiss Mr. Assir as an attention-seeking rabble-rouser: Still, his political message, focused on restoring Sunni dignity and ending Syrian and Iranian influence in Lebanon, resonates with the Sunni community.
Despite his bold political actions — and a threat to take to the streets again soon — Mr. Assir denies that he is looking to become a political leader.
Analysts argue that while new voices in the Sunni community may wield new influence, they have little chance of challenging the traditional centers of Sunni political power.
"The outspoken figures we've seen emerge do not present a real alternative to the Future Movement, but they have played a role in fragmenting the Sunni electorate and channeling people's frustrations with the status quo," said Mr. Muhanna, the blogger.
Mr. Salamey, the political science professor at Lebanese American University, said that Mr. Hariri would remain "a very relevant political force in the country, regardless of and in spite of what happened, because the alternative is not out there."
For many in Lebanon, a zaim remains a zaim, even after death. Posters plastered across Beirut attest to undimmed loyalties: to Bashir Gemayel, the Christian warlord assassinated in 1982, to Musa Sadr, the Shiite cleric who disappeared in Libya in 1978 — and to Rafik Hariri.
NY Times