Lebanon to host next year's 27th FIBA Asia Championship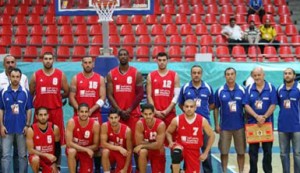 TOKYO, Japan (27th FIBA Asia Championship): The FIBA Asia Executive Committee on Wednesday decided to award the hosting rights of the 27th FIBA Asia Championship to West Asian nation Lebanon. The 27th FIBA Asia Championship to be played in 2013 is also the qualifying event for the 2014 FIBA World Cup, with the top three teams earning the right to represent FIBA Asia in the world event.
The decision was arrived at through a vote in the FIBA Asia Executive Committee after reviewing a presentation made by representatives of two out of three bidders for FIBA Asia's marquee event – Lebanon and Philippines. Iran were the third bidder.
The Philippines bid was presented by a four-member team comprising SBP president MV Pangilinan, SBP Executive Director Sonny Barrios, PBA Commissioner Chot Salud and former ABC Secretary General Moying Martelino.
Superstar player Fadi El Khatib presented Lebanon's bid.
"We had excellent bids from three top teams in FIBA Asia. This is a sign that FIBA Asia has made progress in its organization and administration. It is unfortunate that there is only one event for us to award and it has go to only one of the three bidders," said FIBA Asia President Sheikh Saud bin Ali Al-Thani.
"The very fact that we had a methodical process of documentation and an even more impressive presentation to host the biggest FIBA Asia event reflects FIBA Asia's credibility as an organization," said FIBA Asia Secretary General Hagop Khajirian.
"The whole process of bidding as well as the decision on choosing the host was completely transparent," Khajirian added.
Further, the FIBA Asia Executive Committee also gave a mandate to the FIBA Asia Secretary General to visit Thailand to evaluate their bid to host the 25th FIBA Asia Championship for Women.
"We have two contenders – Thailand and Japan. We have hosted events, including the currently ongoing 4th FIBA Asia Cup, in Japan for the last two successive years. FIBA Asia believes in having as many countries to host its events as possible. Hence we will first evaluate Thailand's bid," Khajirian said.
FIBAASIA