Civilian Attacks Rise in Syria, U.N. Says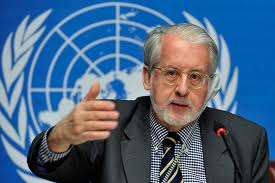 Beirut, Lebanon – With the Syrian conflict spilling into the Lebanese border area on Monday, United Nations investigators said civilians were bearing the brunt of indiscriminate air and ground assaults in the fighting over the future of President Bashar al-Assad.
The report was presented to the United Nations Human Rights Council in Geneva by Paulo Pinheiro, the Brazilian investigator leading a commission of inquiry. Mr. Pinheiro said that there had been a sharp escalation in indiscriminate attacks by government forces against civilians, and that the commission had collected "a formidable and extraordinary body of evidence" against those responsible.
The report, completed last month, said that both anti- and pro-government forces had committed war crimes and crimes against humanity. Mr. Pinheiro said that the evidence, including names of people and units, could support action by national or international courts.
A report released on Monday by Human Rights Watch, based in New York, raised further concerns about rights abuses by antigovernment fighters. The group documented 12 cases of extrajudicial or summary executions by groups linked to the opposition, including four killings in the town of Haffa by members of the Ansar Mohammed battalion.
Battalion members told the rights group that after storming a police station there in June, they killed two snipers on the roof. The fighters, referring to an opposition group of army defectors known as the Free Syrian Army, explained that "everyone saw that they had been shooting at us and killing F.S.A. fighters, so there was no need for a trial."
Underscoring the reach of the conflict and its regional perils, Lebanese officials said Monday that the Syrian Air Force had fired on an area near the Syrian-Lebanese border about noon on Monday. There were no reports of casualties. The attack, near the Lebanese town of Ersal, lasted about three minutes, the Ministry of Information said.
"I saw lots of smoke," said a resident of Ersal, a carpenter who identified himself as Zaher. He said fighting started late Sunday, inside Syria, when rebels attacked soldiers near the border. The rebels fled into Lebanese territory, followed by helicopters and warplanes firing missiles.
A Lebanese Army colonel, speaking on the condition of anonymity, said missiles had landed in an area where the border is not clearly marked, but not inside Lebanon. He said warplanes and helicopters attacked rebel soldiers who had raided a checkpoint in the border area and killed four government soldiers.
The rebels withdrew immediately, the Lebanese officer said, and the warplanes bombed the road on which they retreated.
In another indication of the regional impact of the Syrian revolt, President Michel Suleiman of Lebanon asked Iran to explain remarks attributed to a senior Iranian commander that Tehran's powerful Revolutionary Guard has military advisers in Lebanon and Syria.
In Geneva, Mr. Pinheiro said the escalating conflict was marked by an increasing presence of "foreign elements," including jihadist militants. Some of them joined antigovernment forces and some operated independently, he said, observing that "such elements tend to push antigovernment fighters toward more radical positions."
Little is known about the origins or character of those groups, Mr. Pinheiro told reporters, but the panel referred to them in its report to draw international attention to what he described as "one of the most alarming and scariest aspects" of the conflict. "They have their own agenda, they are sort of loose cannons," he said.
The militants appeared to be involved in attacks and explosions similar to the activities of militants in neighboring countries, Mr. Pinheiro added. The longer the Syrian conflict lasted, he said, "the more of these kind of people will be present opportunistically taking advantage of the conflict."
Drawing attention to events that have occurred since the report was compiled, Mr. Pinheiro called for further investigation of operations in the town of Daraya in late August, where hundreds of people were killed as government forces and allied civilian militiamen known as shabiha assaulted the town.
The antigovernment militias loosely organized under the banner of the Free Syrian Army appeared to have adopted a code of ethics, Mr. Pinheiro noted, but he said that groups affiliated with it were reported to have summarily executed 21 government soldiers in Aleppo earlier this month. Some groups used prisoners to detonate vehicle-borne explosives, killing them, and used other indiscriminate improvised explosive devices that threatened civilians.
"It is apparent that the crimes and abuses committed by antigovernment groups, though serious, did not reach the gravity, frequency and scale of those committed by the government forces and shabiha," Mr. Pinheiro said.
He also reported an increase in sectarian tensions, with abductions and killings committed by Sunni Muslims on one side and Shiites and minority Alawites on the other, prompting other minority groups to organize their own self-defense groups.
After 18 months of escalating violence, the conflict in Syria seems likely to continue until one side or the other is too exhausted to go on, Mr. Pinheiro said, but "this is a war neither side can win."
NY Times