Suspected anti-Islam filmmaker questioned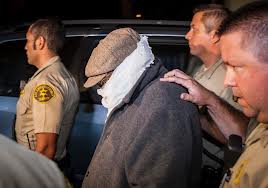 A man purported to be a filmmaker involved with the anti-Islam video sparking violent unrest in the Middle East and North Africa was escorted by deputies from his Cerritos, Calif., home shortly after midnight Saturday morning, NBCLosAngeles.com reported.
Media and law enforcement had been staking out the home at the end of a cul de sac in the Southern California city for about 48 hours when Nakoula Besseley Nakoula emerged wearing a coat, hat, scarf and glasses.
L.A. County Sheriff's Department spokesman Steve Whitmore confirmed to NBCLA that Nakoula, 55, was taken to the Cerritos sheriff's station for interviewing by federal probation officers aimed at determining whether he violated the terms of his 5-year probation by uploading a video to the Internet.
"We are in an assist mode," he said.
Whitmore added that Nakoula, who has denied involvement in the film in a phone call to his Coptic Christian bishop, agreed to the interview prior to the deputies arriving at his home, that the move was "entirely voluntary" and the man was "very cooperative."
Deputies pulled up to the home around midnight, according to witnesses. The group left the home through the side gate because the front door was not working, Whitmore said. NBCLA went to the home earlier this week and saw the front door was missing a knob.
International protesters have cited the 15-minute video posted on the Internet called "The Innocence of Muslims" as a catalyst for their demonstrations in countries such as Libya, Tunisia and Egypt.
They say the piece is insulting to their religion as it depicts the Prophet Muhammad as a child molester and a thug. In Islam, all images of Muhammad are prohibited, let alone negative ones.
Nakoula has told the Associated Press he was not the director on the film, but rather a logistics manager. The film's mystery producer has been said to go by the pseudonym Sam Bacile.
A telephone number said to belong to Bacile, given to Reuters by U.S.-based Coptic Christian activist Morris Sadek who said he had promoted the film, was later traced back to a person who shares the Nakoula residence.
Nakoula reportedly requested deputies step up patrols around his home Wednesday after media descended on the area. At the time, Whitmore told reporters there had been no disturbance or crime.
Early reports suggested the film prompted the attack on the U.S. Consulate in Libya that killed 14 people, including U.S. Ambassador Christopher Stevens, two former Navy SEALS who were providing security for Stevens, and information management officer Sean Smith.
But U.S. officials are also probing the possibility that Wednesday's attack was planned and timed to coincide with the 11th anniversary of the Sept. 11, 2001, terrorist attacks.
A federal grand jury indictment in February 2009 charged Nakoula in an alleged bank fraud conspiracy. The indictment accused him and others of fraudulently obtaining the identities and Social Security numbers of bank customers at Wells Fargo and withdrawing $860 from bank branches in Cerritos, Artesia and Norwalk.
Nakoula pleaded no contest in 2010 and was ordered to pay more than $790,000 in restitution. He was also sentenced to 21 months in federal prison, but was released early. The terms of his parole included being barred from assuming aliases and using computers or the Internet for five years without approval from his probation officer.
Many records in the case remain sealed, but prosecutors sought a longer prison term and noted that he misused some of his own relatives' identities to open 600 fraudulent credit accounts.
Los Angeles County District Attorney spokeswoman Sandi Gibbons confirmed that Nakoula also served a year in jail after pleading guilty to possession of meth with the intent to manufacture in 1997.
U.S. officials have said authorities were not investigating the film project itself, and that even if it was inflammatory or led to violence, simply producing it cannot be considered a crime in the United States, which has strong free speech laws.
It could be difficult to establish a probation violation case against Nakoula. In the federal court system, the conditions of supervised release are geared toward the offense for which a defendant was found guilty and imprisoned.
In Nakoula's case, the offense was bank fraud. His no contest plea was to charges of setting up fraudulent bank accounts using stolen identities and Social Security numbers, depositing checks from those accounts into other phony accounts and then withdrawing the illicit funds from ATM machines.
While it was unclear what might have provoked authorities' interest, the filmmaker's use of a false identity and his access to the Internet through computers could be at issue, according to experts in cyber law and the federal probation system. Nakoula, who told the AP that he was logistics manager for the film, was under requirements to provide authorities with records of all his bank and business accounts.
There are indications that "Innocence of Muslims" may have already been under way as a film project when Nakoula was arrested. A casting call for actors and crew for a film called "Desert Warrior" ran in Backstage magazine, based in Los Angeles and New York, in May and June 2009. The casting call described the film project as a "historical Arabian Desert adventure" and listed a "Sam Bassiel" as producer.
One notice identified "Pharaoh Voice Inc."as the film's production company. California state records show Pharaoh Voice was incorporated in September 2007 by a "Youssef M. Basseley." The principal address for Pharaoh Voice in Hawaiian Gardens, a southern California community, is the same location where Nakoula lived until 2008, according to state records.
During an interview with AP, Nakoula denied that he was Sam Bacile, but acknowledged knowing him.
Stan Goldman, a Loyola Law School professor, said whether Nakoula is sent back to jail over potential probation violations linked to the film, such as accessing the Internet, was a subjective decision up to an individual judge.
"Federal judges are gods in their own courtrooms, it varies so much in who they are," he said, noting such a move would be based on his conduct not on the content of the film.