UK calls for justice over protests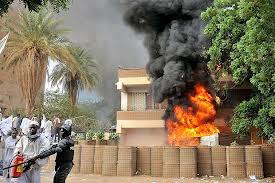 The UK has urged the Sudanese authorities to bring to justice protesters who attacked the British and German embassies amid a wave of angry Muslim protests over a film lampooning the prophet Muhammad.
Foreign Secretary William Hague said the Government had raised "serious concerns" with the Sudanese Ambassador to London over the incident in Khartoum, when demonstrators broke down a perimeter wall.
No staff were injured but the German embassy, in the same compound as the British, was torched.
"We have spoken to the Sudanese Ambassador in London (Abdullahi Hamad Ali Alazreg) and raised our serious concerns that this attack was able to take place," Mr Hague said. "It is the responsibility of the Sudanese authorities to ensure that effective protection is provided to diplomatic premises at all times. I condemn in the strongest possible terms today's attack and call on the Sudanese authorities to ensure that those involved are brought to justice."
Protests spread across much of the Muslim world on Friday over the low-budget anti-Islam film produced in America.
Demonstrators scaled the walls of US embassies in Tunisia and Sudan and police in Cairo prevented stone-throwing protesters reaching the US Embassy, firing tear gas and deploying armoured vehicles in a fourth day of clashes in the Egyptian capital.
The protests spread to about 20 countries, including Indonesia, Malaysia, India, Afghanistan and Pakistan, but the most violent demonstrations took place in the Middle East.
Earlier this week the US ambassador to Libya, Chris Stevens, was among four Americans killed in an attack in Benghazi.
As their bodies were returned on Friday night, US President Barack Obama admitted their deaths led many to question American "idealism". "They embodied it – the courage, the hope and, yes, the idealism. That fundamental American belief that we can leave this world a little better than before," he said. "I know that this awful loss, the terrible images of recent days, the pictures we're seeing again today, have caused some to question this work. And there is no doubt that these are difficult days. In moments such as this, so much anger and violence, even the most hopeful among us must wonder."
Mr Hague said the Foreign Office's travel advice had been updated to urge British nationals to avoid demonstrations or large gatherings of people.
The Press Association