Qandil is 3rd Lebanese involved in terror plot, report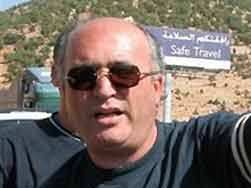 Former minister Nasser Qandil is the third person involved in the Syrian terror plot , security sources to Kuwaiti al Seyassah newspaper in a report published on Friday .
The other two are former Minister Michel Samaha and former Lebanese General Security chief Jamil as-Sayyed.
Syrian National Security Bureau head Ali Mamlouk reportedly planned the terrorist plot aimed at destabilizing Lebanon.
Explosives that were transported from Syria by former Minister Samaha were discovered by the Internal Security forces last month .
Qandil is a staunch ally of Syrian president Bashar al Assad and is one of the people accused by former chief UN investigator Detlev Mehlis of involvement in the assassination of former PM Rafik Hariri in 2005.
The evidence of Michel Samaha terrorist plot seems overwhelming, and the former minister appears to have confessed on tape to plotting to target Christian leaders with the aim of blaming Sunni extremists and cementing the Christian community's support for Assad's supposedly secular regime.
According to Lebanese security sources, when asked why he would do such a thing, the former minister replied, "This is what Bashar wants."