U.S. urges Lebanon to prevent Iran, Syria sanctions evasion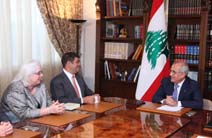 U.S. Deputy Treasury Secretary Neal Wolin urged Lebanese leaders and bankers in Beirut on Tuesday to ensure their country was not used by Iran and Syria to evade financial sanctions.
A U.S. embassy statement said Wolin "underscored the need for Lebanon to prevent abuse of the Lebanese financial sector by illicit actors and for Lebanese banks and regulatory authorities to remain vigilant against the evasion of sanctions by Iran and Syria".
Wolin met Prime Minister Najib Mikati, Economy Minister Nicolas Nahhas and Central Bank Governor Riad Salameh on the first day of a regional trip which will also take him to Saudi Arabia and Tunisia.
Reuters