Geagea pushing for smaller districts in a new electoral law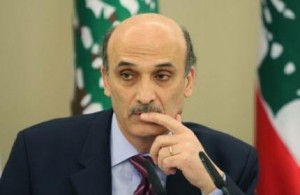 Lebanese Forces leader Samir Geagea revealed on Tuesday that he has been in contact with Hezbollah and AMAL leaderships over the adoption of small electoral districts in a new parliamentary electoral law , stressing it will be more just for the Lebanese people, according to a report by the Central News Agency CNA.
He told the CNA: "Contacts are underway with the Hezbollah and AMAL leaderships over the adoption of small districts."
He also revealed: "The Lebanese Forces leadership will expand its contacts, within ten days, to include all parliamentary blocs in order to reach an agreement over an electoral law based on smaller districts."
Once an agreement is reached over the new law, then it can be referred to parliament, he added.
"We are not trying to defy other powers, but we are simply attempting to provide the factors that will ensure the law's success," he explained.
Geagea accused FPM of trying to contradict what was agreed upon among the members of the Bkirki committee over a new electoral law
The patriarch was aware of such an attempt and thwarted it and the result was an agreement over small electoral districts, he stated.
Berri refers draft laws to parliament committees
Speaker Nabih Berri on Monday referred the draft electoral law, that was approved by the cabinet and the president , to the relevant parliamentary committees , National News Agency reported on Monday.
Berri also referred to the committees a draft electoral law submitted by Change and Reform bloc MP Neemtallah Abi Nasr and MP Alain Aoun . This is the so called "Greek Orthodox gathering proposal" which calls on each sect in Lebanon to vote only for its candidate in the elections based on proportional representation and one electoral district for the whole country .
Lebanon's Cabinet approved earlier in August the electoral draft law that called for proportional representation and divided the country into 13 districts.
Lebanon was divided into the following electoral districts:
Beirut 2, south Lebanon 2, Bekaa 3, north Lebanon 3 , Mount Lebanon 3.
The new electoral law was approved by the majority of ministers. The ministers that represent Progressive Socialist Party leader MP Walid Jumblatt's bloc voted against it.