UN chief urges human rights officials to lead on Syria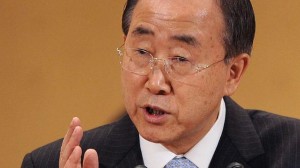 U.N. Secretary-General Ban Ki-moon urged the world's foremost human rights body on Monday to keep up the pressure on major powers to end the civil war and rights abuses in Syria.
At the opening of the U.N. Human Rights Council's monthlong session, Ban told diplomats that he was "deeply troubled by the aerial bombardments of civilians by government forces; by the increasing sectarian tensions; by the deteriorating humanitarian situation; and by the apparent choice of both sides to pursue a solution through force rather than dialogue."
The U.N. chief called on all nations, including the 47 that are members of the Geneva-based council, to unite behind the efforts of his special envoy to Syria, but also to "maintain its vigilance on Syria, including on the question of accountability" for suspected abuses.
Syria's U.N. ambassador, Faysal Khabbaz Hamoui, after listening to the speeches from Ban and the U.N.'s top human rights official, Navi Pillay, told reporters that he was pleased that they had mentioned suspected human rights abuses on both sides, not just the Syrian government.
Ban told the council that it should apply pressure of its own to the situation, independent of the more powerful New York-based Security Council that can impose financial sanctions and authorize peacekeeping missions and even military action.
"I commend the council for acting quickly in response to the crisis in Syria," Ban told the Human Rights Council, referring to special sessions in Geneva that condemned the violence, set up independent probes and recommended strong action to end the Syrian hostilities that have escalated since March 2011.
"While the Security Council has been divided on the situation, the General Assembly and this council have acted. I welcome this stepped-up engagement. I regret that your recommendations were not followed up by other relevant United Nations organs."
An independent panel set up by the Human Rights Council to look into rights abuses in Syria had recommended that the council's president forward its report to Ban, who could bring it to the attention of the Security Council. The council's president said she had done exactly that.
Earlier this year, the council also said in a resolution that it agreed with U.N. High Commissioner for Human Rights Navi Pillay, in her call for action by the International Criminal Court based at The Hague.
Pillay on Monday called on the international community "to overcome divisions and work to end the violence and human rights violations" in Syria including attacks on U.N. observers and staff.
Russia and China, two of the five veto-wielding permanent members on that 15-nation council, have effectively blocked major powers from responding in a coordinated fashion to the Syria crisis.
The panel's report could be used by world powers to justify tougher outside action against Syria, or strengthen calls for an international investigation and prosecution of possible war crimes and crimes against humanity. Ban seemed to support that approach.
"We must ensure that anyone, on any side, who commits war crimes, crimes against humanity or other violations of international human rights or humanitarian law is brought to justice," he said.
At a special session on Syria later Monday, Pillay called on nations to stop supplying arms to both sides and said that the U.N. has concluded both government forces and armed opposition forces have committed serious human rights violations that might amount to crimes against humanity and, possibly, war crimes.
"Government forces continue to use heavy weaponry in residential and populated areas, and are increasingly using helicopters and fixed-wing aircraft in indiscriminate attacks on urban areas containing civilians as well as armed opposition fighters," she said.
"In a further alarming development, last week it was reported that houses in parts of Damascus were being bulldozed — an act that may well amount to collective punishment and constitute a war crime or a crime against humanity."
Associated Press