1 dead , 2 missing off the coast of Tyre, south Lebanon
The Civil Defense's maritime rescue unit retrieved the body of Khalil Mohammad Khalil (born in 1938 in Aytaroun) off the coast of Tyre. Khalil reportedly died by drowning after suffering from a sudden heart attack.
In a related development Civil Defense teams have been searching for Ali Chakar and Dib Al Hashem since this morning. The two men were swimming off the coast of Tyre when they went missing.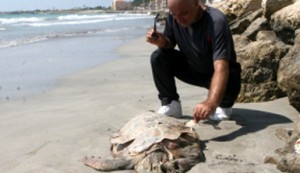 Also in Tyre a sea turtle was found dead off the southern coast , facing Queen Elissa Hotel on Sunday after swallowing plastic bags. Sea turtles are prone to mistaking plastic bags for jellyfish, one of their favourite foods.
Tyre's mayor Hassan Dabbouq inspected the location where the turtle was found and was reportedly outraged by the the incident which recurs daily and is "due to the heinous behavior of citizens and sea-goers who throw plastic bags and waste in the sea and on the shores in a total disregard to nature."
LBC