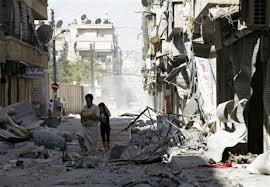 Syrian warplanes bombed a residential district of Aleppo on Sunday after rebels overran army barracks there, killing and wounding dozens of people and exacerbating a water shortage in Syria's biggest city after a pipeline burst, activists said.
President Bashar al-Assad has resorted increasingly to devastating aerial bombardment to keep rebels fighting to overthrow him in check after they took control of residential neighborhoods and made forays into the center of Aleppo, Syria's commercial and industrial capital.
The almost 18-month-old uprising has polarized global powers, preventing effective international intervention, and is turning increasingly sectarian with the risk of spillover into adjacent Arab states with similar communal divisions.
Insurgent advances have forced Assad to deploy warplanes, major armored forces and thousands of troops to prevent the fall of Aleppo, which would free up supply lines to the interior of Syria from Turkey where rebels have sheltered.
Decisive victory has eluded both sides, with rebels lacking heavy weapons needed to down aircraft and knock out artillery and Assad loath to send conscript troops of questionable loyalty into cities to re-establish dominance on the ground.
Instead, government forces have been bombarding population centers to try to turn residents against rebels dug in there, according to diplomats following the revolt.
Sunday's air raid destroyed a residential complex in the Hananu neighborhood, one of several in eastern Aleppo under rebel control, opposition activists told Reuters by phone.
The death toll was not immediately clear but dozens of bodies and wounded people were being dug out from the rubble. Video footage from the area showed scores of people searching and digging in the debris of a flattened building.
On-scene details could not be independently verified due to Syria's severe restrictions on international media access.
WATER CRISIS IN ALEPPO
Aerial bombardment had also wrecked a main water pipeline, causing serious shortages of water in Aleppo, activists added.
"A water pumping station in al-Mayadeen was hit. There were rebels in the area, but this is not a justification to bomb civilian infrastructure," activist Ahmad Saeed said.
A businessman who went from the northwest of the city to Hananu to bury his grandmother – Aleppo's main cemetery is situated in the district – said the ground was shaking with artillery explosions.
"I passed by several (rebel) Free Syrian Army checkpoints. The fighters looked quite relaxed. The army was nowhere to be seen but it was bombing heavily," he said.
The eastern sector of Aleppo has drawn air strikes since rebels attacked the Hananu barracks and freed scores of army deserters, opposition campaigners said.
In the capital Damascus, the army continued to shell Sunni Muslim neighborhoods supportive of the revolt against Assad, whose minority Alawite sect has dominated Syria's power structure for decades.
Shelling again struck the Palestinian refugee camp of Yarmouk in south Damascus and the adjacent impoverished neighborhood of Hajar al-Aswad, home to thousands of refugees from the Israeli-occupied Golan Heights.
Rebels have launched guerrilla attacks on loyalist forces from Sunni neighborhoods and suburbs that surround Damascus, while Assad has been increasingly relied on elite divisions comprised of Alawites to keep overall control of the capital.
BUS AMBUSHED
Syrian state media said four people were killed in a "terrorist attack" that targeted a bus in the province of Homs. The London-based Syrian Observatory for Human Rights said civilians and soldiers were in the bus.
Assad, whose family has rule Syria for 42 years, has repeatedly said the revolt is the handiwork of Islamist "terrorists" and not a popular movement for democratic change.
The revolt began with peaceful street protests that prompted a bloody security crackdown, leading to an armed insurgency.
U.S. Secretary of State Hillary Clinton said on Sunday she was pessimistic about closing the gap with Russia on how to defuse the Syrian conflict before world leaders gather for the U.N. General Assembly later this month.
Clinton said she made the case for increasing pressure on Assad in talks with Russian President Vladimir Putin and Foreign Minister Sergei Lavrov at a summit of Pacific Rim states in Vladivostok, Russia over the weekend.
"If we can make progress in New York in the run-up to the U.N. General Assembly, we can certainly try," Clinton told reporters. "But we have to be realistic. We haven't seen eye-to-eye on Syria. That may continue. And if it does continue then we will work with like-minded states to support the Syrian opposition to hasten the day when Assad falls."
MSNBC