Suleiman sticks by his stance over Syrian terrorist plot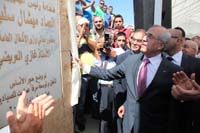 Lebanese President Michel Suleiman said on Saturday that he sticks by his stance as declared on the day the explosives that were transported from Syria by former Minister Michel Samaha were discovered by the Internal Security forces .
Suleiman added that he maintained the same stance when he discussed the issue with the Syrian delegation at the Tehran summit.
He said he remains hopeful that no Syrian official was involved in the terrorist plot adding that the judiciary will be provided with full political cover to do its work without any hesitation."
Suleiman stressed Saturday during the opening ceremony of the port for fishermen in his hometown of Amchit that anyone who tries to sow discord in Lebanon will fail.
Following the discovery of the explosives that were transported from Syria by former Minister Samaha , Suleiman he congratulated the Internal Security forces and announced that he is waiting for a phone call from Syrian President Bashar Assad about Syrian National Security Bureau head Ali Mamlouk's alleged participation in a terrorist plot with Samaha.
Few thought that Syrian President Bashar al-Assad would relinquish power without attempting to drag others in the region down with him. It's a game of political blackmail that the Syrian regime has perfected over its four decades of control. Since the uprising began in March of last year, Assad has allegedly given Kurdish rebels a free hand in fighting Turkey and shelled Jordanian territory. Yet, it is neighboring Lebanon that Assad has taken as the regime's prime hostage.
The evidence of Samaha terrorist plot seems overwhelming, and the former minister appears to have confessed on tape to plotting to target Christian leaders with the aim of blaming Sunni extremists and cementing the Christian community's support for Assad's supposedly secular regime. According to Lebanese security sources, when asked why he would do such a thing, the former minister replied, "This is what Bashar wants."
But the most shocking thing wasn't the plot itself, but that Lebanese officials, many of whom have been targets of Syrian car bombs in recent years, found the courage to arrest a member of Assad's close circle. They also filed charges against Syria's national security advisor for allegedly providing the explosives.
For the Lebanese, this was all too good to be true and prompted speculation over whether the ruler of Damascus was so weakened that Beirut officials now dared to cross him!
Syrian Social Nationalist Party MP Marwan Fares criticized Suleiman's recent stances and accused him of disloyalty towards Syrian regime according to a report published last Thursday by the Kuwaiti daily As-Seyassah.
" President Suleiman's recent stances showed disloyalty from the Lebanese government toward the Syrian one ," Fares , a staunch ally of the Syrian regime said.