Trinidad and Tobago PM praises Lebanese, Syrian community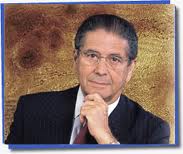 The success story of Dr.Anthony N Sabga, who came to this country as a teen and built a multi-billion-dollar industry, is one that inspires and reflects the great contribution of the Syrian/ Lebanese community to the nation, says  Trinidad and Tobago Prime Minister Kamla Persad-Bissessar.
Persad-Bissessar hosted a reception at the Diplomatic Centre, St Ann's on Thursday in honour of the Syrian/ Lebanese people in commemoration of this country's 50th anniversary of Independence.
The Prime Minister noted that all our ancestors struggled in poverty.
"And so when people want to say that you think you are privileged because your father has money…let us say one thing about Trinidad and Tobago, all our ancestors started in poverty. Whether they came as slaves, whether they came as indentured or whether they came as suitcase traders out of Syria and Lebanon," she said.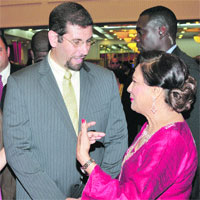 "We have come out of adversity, all our people in this land, it is up to us to take those steps to grow and to develop and to do better than our forefathers because that is why they laboured and work so hard," she added.
Persad-Bissessar noted the success of the Syrians and Lebanese in various fields but paid special tribute to Sabga, whom she said came to this country at age 13 in 1930.
Sabga, she said, took a challenge to venture into his own business and although the first few years were not as successful as he hoped, his determination grew even stronger.
"Today, that remarkable young man of the early 20th century is chairman emeritus of an international group of companies which traces its history back 130 years and now it boasts of an asset base of over $11 billion," said the Prime Minister.
"I'm also aware the Ansa McAL Foundation has become a central driving force in education, community and social development and in harnessing expert talent for the benefit of the entire Caribbean region," she said.
"Such a story must always be told and can easily be held up as one of the most inspiring ones in our history and that is why last year I felt very privileged and very honoured to have Dr Sabga given the highest award in Trinidad and Tobago," Persad-Bissessar added.
The Prime Minister also praised the strong family bonds in the Syrian/Lebanese community.
"Your families were driven by desire to provide for their families, they would work tirelessly, often putting the well-being of the family ahead of individual interests," she said.
"Every individual who stands on the shoulders of parents and relatives and family, who uphold and lift them, that person would be a great joy and a greater contributor to our society, your community has done that for your children and I congratulate you.
"Perhaps if every citizen of Trinidad and Tobago were to follow your example we would have a greater, better, more improved T&T," said Persad-Bissessar.
Awards for Excellence
One of the achievements of Dr Sabga, was the creation of The Anthony N Sabga Caribbean Awards for Excellence.
The awards are meant to recognise and reward excellence in the Caribbean region, and create an awareness of the significant work done in the region which benefits Caribbean people, and all people worldwide. The Sabga Awards programme is the only institution of its kind in the Caribbean. Launched in 2005, prizes are awarded in the spheres of Arts & Letters, Science & Technology, and Public & Civic Contributions. The first Laureates were named in 2006, and were presented with a cash prize of US $83,000 , a gold medal, and a citation. Since 2006, three sets of Laureates have been honoured at ceremonies in Trinidad.
Trinidad and Tobago express