SCC to decide on a position on new wages scales,hikes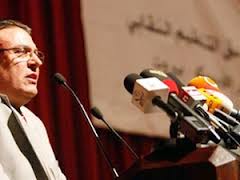 The Syndicate Coordination Committee, a coalition of private and public school teachers and public sector employees will hold a meeting on Friday at 3:00 p.m. to decide on its position toward the cabinet's approval of wages scales and wages hikes for the public sector.
The meeting will be held at the secondary school in the UNESCO area of Beirut.
This development comes a day after SCC staged sit-ins outside various state administration offices to protest the government's delay in approving the salary increases wage scales.
The cabinet approved during a session at the Baabda Palace on Thursday, the wages scales and wages hikes for public employees
The wages increase will be retroactive to July 1, 2012, but the salary adjustments would be paid in installments over a period of five years.
Earlier today the head of secondary school teachers association Hanna Gharib lashed out at the cabinet's decision saying "it violated the agreement with the SCC when it decided to pay the salary adjustments in installments."
Teachers Syndicate head Nehme Mahfoud however voiced optimism on Friday over the newly approved wages scales and wages hikes
"The approval of wages scales and wages hikes is very positive," Mahfoud told Voice of Lebanon (100.5) radio station, adding however that the decision to pay the salary adjustments in installments over a five-year period was "a negative [point]."
Reservations
Lebanese Environment Minister Nazim Khoury said that he and other officials expressed reservations about the newly approved wages scales and wages hikes due to the unavailability of all required funds to cover the salary increases for public employees.
During an interview with Al-Liwaa newspaper published Friday, Khoury said that the Ministers discussed some of the possible funds on Thursday, but did not specify all sources.
"This might negatively affect the government's financial situation, which is going through a very difficult [period]," the minister said.
Lebanon is a very heavily indebted nation and any additional budget deficit as a result of the wage increase could result in more downgrading by the international credit agencies which could lead to an increase in the interest rate Lebanon will have to pay on future borrowing.