Hariri, Jumblatt meet for first time in 19 months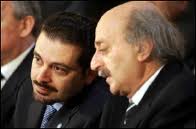 Former Lebanese PM and Future Movement leader MP Saad Hariri discussed on Tuesday the latest local and regional developments with Progressive Socialist Party leader MP Walid Jumblatt in Paris, a statement issued by Hariri's press office reported.
Meanwhile, on Wednesday, An-Nahar Lebanese newspaper quoted a "well-informed" source as saying that the former prime minister and Jumblatt discussed the Syrian crisis and both agreed that the Syrian people's demands were "rightful."
Lebanon is sharply divided over the more than 17-month uprising against the regime of Syrian President Bashar al-Assad, whose supporters inside the country are led by the Shiite movement Hezbollah.
The source also said that the two men addressed the issue of Lebanon's government, adding that the PSP leader feared the cabinet's possible collapse would lead to a vacuum that will negatively affect the country's security and stability.
"However, Hariri believes that the [current] cabinet was formed through extortion and that another [more] neutral government should be formed instead," the source added.
According to the daily, Hariri, whose cabinet was toppled in January 2011, was not in a dispute with Jumblatt but only had a different opinion when it came to the Lebanese government.
Also, Jumblatt told As-Safir newspaper in remarks published Wednesday that the meeting with the former premier was "an occasion to meet with a friend I have not [seen] in a long time."
He also denied reports that his sit-down with Hariri "was to prepare a coup against the current cabinet."
Now Lebanon