Syria's main opposition SNC decided to reform itself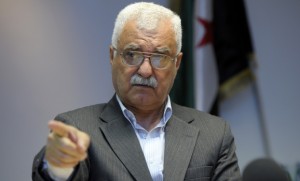 Syria's main opposition group, The Syrian National Council has decided to reform itself by expanding it to include more groups opposing President Bashar al-Assad and to be more representative, a spokesperson told AFP on Sunday.
At a meeting in Stockholm late Saturday, SNC decided to expand its membership and to hold a vote later this month to elect its leadership, spokesperson George Sabra said.
The move follows criticism from both within and outside the group that it is failing to unite the diverse opposition forces working against Assad, after more than 17 months of brutal conflict.
"New opposition groups will join the SNC. There will be at least five or six new groups from inside and outside Syria" joining the organization, Sabra said.
TSNC's general assembly will grow from 300 to 400 members and each opposition group will be represented by 20 members, Sabra said.
Under a reform agreed in Stockholm, the assembly will elect a general secretariat that will then choose an executive bureau and leader for the SNC. Leaders have previously been chosen by consensus.
The mandate of current SNC leader Abdel Basset Sayda, which was due to expire on September 9, has been extended and he will stay on until the vote is held in late September, Sabra said.
AFP