Another explosion rocks Damascus, wounds 4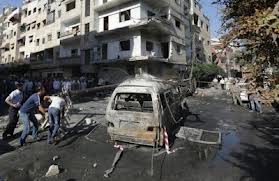 Twin bombs exploded near a tightly guarded government compound in the heart of Damascus on Sunday, state media said, as new international peace envoy Lakhdar Brahimi said change was "unavoidable."
Speaking to satellite news channel Al-Jazeera as he took over as UN-Arab League envoy from former UN chief Kofi Annan, Brahimi carefully refrained, however, from publicly calling as his predecessor had for President Bashar al-Assad to step down.
Four people were wounded in the twin bombings which struck in the Abu Remmaneh district where several security service buildings and the office of Vice President Faruq al-Shara are located, state television said.
The attack, which state media blamed on "terrorists" — the government's standard term for rebels fighting to end Assad's rule — came a day after a bombing killed 15 people in a southern suburb of Damascus.
They were among at least 168 people killed on Saturday — 110 civilians, 32 soldiers and 26 rebels, the Syrian Observatory for Human Rights said.
Shara is the highest-ranking Sunni Muslim in Assad's minority Alawite-led government and was the subject of repeated defection rumours last month before he made a public appearance during a visit by a senior envoy from key ally Iran.
That was the first time he had appeared in public since he attended a state funeral for top security officials killed in a July 18 bombing that struck at the heart of Assad's regime.
Earlier, state media reported that a car bomb explosion near a mosque at Sbeneh in the southern outskirts of the capital on Saturday killed 15 people. Sbeneh is a poor neighbourhood where anti-government sentiment is strong.
The explosions came after a car bombing hit a funeral for two government supporters in the southeastern suburb of Jaramana on August 28 killing at least 27 people, according to the Syrian Observatory.
The violence in the capital came as the army renewed its bombardment of rebel-held areas in the provinces.
Shelling of Qusayr destroyed the last working bakery in the rebel-held part of the central town, activists said, aggravating a growing food shortage and highlighting the plight of civilians trapped by the fighting.
Human rights watchdogs have expressed growing concern about deteriorating conditions in areas under protracted siege and bombardment by the army, including parts of second city Aleppo and third city Homs.
"The shelling of Hanano did not stop from midnight until 5 am," an activist told AFP from the pro-opposition northeastern district of Aleppo, a city of some 2.7 million people and a major battleground between troops and rebels since July 20.
"People are used to the power cuts, but the most difficult thing is getting hold of medicines, food and milk," the activist told AFP by Skype.
Brahimi, who took over as international peace envoy on Saturday, told Al-Jazeera that "change is necessary, indispensable, unavoidable."
He said his position was to engage all the parties and he would not be drawn on Assad's future.
"It is too early to speak about who should go and who should stay," he told the channel.
"This is not a step backwards. Mr Assad is there and is the president of the present government," he said. "Kofi talked to him, and I will talk to him."
Similar comments by the veteran Algerian diplomat soon after his nomination last month drew an angry reaction from Syria's exiled opposition, which accused him of giving Assad's regime a "licence to kill."
Brahimi, who will formally take the reins in handover ceremony with Annan and UN chief Ban Ki-moon on Tuesday, has been holding meetings at the UN headquarters in New York.
He takes over amid mounting pessimism about the prospects for peace after Annan announced he was stepping down last month blaming divisions in the international community for the failure of his April six-point peace plan.
The violence has since intensified with August much the bloodiest month of a conflict now in its 18 month that has killed more than 26,000 people, according to Syrian Observatory figures.
RNW/AFP