PSP youth rallies for expulsion of Syria's envoy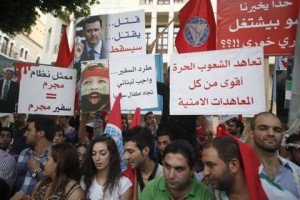 Members of the Progressive Socialist Party (PSP) Youth Organization called Friday for the expulsion of the Syrian ambassador to Lebanon, Ali Abdel-Karim Ali and for the summoning of the Syrian officers who are "involved" in the case of former minister Michel Samaha.
The protest by PS took place two days after a similar protest by March 14 youth. While the rally of March 14 took place in the Ashrafieh neighborhood of Beirut, the PSP rally took place in Downtown Beirut's Samir Kassir Square.
Kassir a former professor and a journalist was assassinated using a car bomb in Beirut on June 2, 2005, months after former PM Rafik Hariri was assassinated . The Syrian regime of president Bashar al Assad was accused of being behind the assassination but Syria denied any involvement . Kassir was widely known for his popular weekly column in the An Nahar daily in which he wrote strong articles against the Syrian regime.
Ayman Kamaledine, secretary of PSP's youth organization, said Friday's protest would be followed by a number of other actions if the government fails to summon Ali.
Kamaledine slammed the international community for "failing to shoulder its responsibilities in protecting the Syrian people ". He called on the Lebanese state to "take the necessary diplomatic measures against the Syrian ambassador "and stressed the need to "summon the Syrian officers who are involved in Samaha's case and submit the results of the investigations to the Arab League and the U.N."
Protesters raised several banners; One of the banners read : "Expelling the ambassador is a Lebanese duty toward the Syrian children" , another read: "The representative of the criminal regime is a criminal ambassador."
The Protesters chanted several anti-Assad slogans against the Syrian regime and its ambassador in Lebanon calling his presence a "disgrace to the hundreds of children who have become victims of torture and massacre in Syria." They also hailed PSP leader MP Walid Jumblatt's recent stances against the Syrian regime.
PSP had previously held several sit-ins to support the Syrian people and to protest the disappearance of former Syrian VP and the co-founder of the Baath party Shebli al-Aysami.
Al-Aysami, 87, who fled his native country in 1966 over political differences, was abducted in May 2011 in Aley.
MP Akram Chehayeb, a member of the National Struggle Front bloc which is headed by Jumblatt slammed Syrian Ambassador to Lebanon last October by saying that "no diplomat has the right to interfere in a case that is now in the hands of the relevant Lebanese judiciary," in reference to the disappearance of Aysami , who went missing shortly after arriving in Lebanon on a visit to his daughter .