Iraqi PM to submit a plan to end Syria's conflict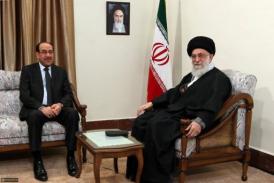 Iraqi Prime Minister Nuri al-Maliki was to submit a plan to end Syria's conflict on Thursday based on a halt to violence and formation of a unity government that could include President Bashar al-Assad, his spokesman said.
Maliki was to outline the initiative, under which a Syrian regime figure would negotiate with opposition groups and elections take place under international and Arab League supervision, in a speech to the Non-Aligned summit in Tehran.
"This initiative is a developed version of a proposal that Iraq informally presented during the Arab League summit (in Baghdad in March) to some Arab leaders," Maliki's spokesman Ali Mussawi told AFP by telephone from Tehran.
The proposal includes an agreement by all parties in Syria to end violence and a call for all countries to "stop interfering in Syria's internal affairs."
It also calls for roundtable talks under Arab League supervision and the formation of an interim unity government which "includes all components of the Syrian people, with all factions agreeing upon who heads the government," Mussawi said.
The plan proposes the formation of an independent election commission and polls to be carried out under supervision, as well as the appointment of a regime official to negotiate with opposition groups.
Iraq, which shares a 600-kilometre (375-mile) border with Syria, has pointedly avoided calling for Assad to step down or criticising his government, urging instead an end to violence by all parties.
Iraq aligns with Iran
Maliki, continues to align itself more closely with neighboring Iran.
According to U.S. defense officials, including one who recently returned from Iraq, Maliki recently shifted a large number of Sunni-dominated Iraqi troop units near Syria away from the border and replaced them with Shiite troops.
The reason: Iraq's government is preparing for the exit of Iranian paramilitary units from Syria that have been seeking to prop up President Bashar Assad's regime. Beset by a growing number of high-level defections, the Assad regime is said to be on its last legs.
The Iraqi units near Syria are expected to form a secure corridor into the southern part of Iraq and into Iran for the retreating Iranian troops.
Intelligence reports from the region indicate that members of the late Iraqi leader Saddam Hussein's regime also are fleeing Syria and returning to Iraq, raising new fears of anti-government terrorist attacks in Iraq.
AFP, WT