President Suleiman met the Iranian leader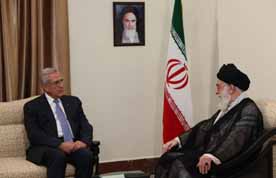 Lebanese President Michel Suleiman who arrived in Iran on Wednesday evening to attend the Non-Aligned Movement Summit in Tehran met on Thursday with Iran's Supreme Leader Ayatollah Ali Khamenei in Tehran, National News Agency reported.
The president had met earlier with his Egyptian, Iranian and Palestinian counterparts, Mohammad Morsi, Mahmoud Ahmadinejad and Mahmud Abbas, the report said.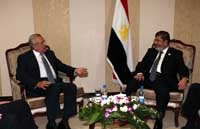 The Lebanese president expressed optimism prior to departing to Tehran that the conference was likely to embrace "impartial decisions that would allow people of the Middle East and the world to achieve democracy"
Iran's controversial nuclear activities and the bloody conflict shaking Syria dominated the agenda of the summit in Tehran on Thursday.
Those issues swept aside the diplomatic harmony Iran had been trying to project during the gathering of 120 members of the Non-Aligned Movement.