Turkey presses U.N. to house refugees inside Syria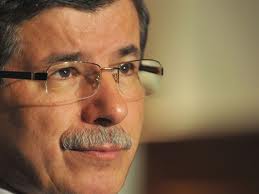 Turkish Foreign Minister Ahmet Davutoglu urged the United Nations on Wednesday to care for displaced Syrians inside their country instead of letting them flood into Turkey, which already hosts more than 80,000 refugees.
Ankara, fearing a mass influx such as the flight of half a million Iraqi Kurds into Turkey after the 1991 Gulf War, has floated the idea of a "safe zone" under foreign protection within Syria for civilians fleeing intensifying violence.
"We expect the United Nations to engage on the topic of protecting refugees inside Syria and if possible sheltering them in camps there," Davutoglu told a news conference in Ankara.
Ankara has discussed the issue with U.N. High Commissioner for Refugees Antonio Guterres and U.N. aid chief Valerie Amos, he said, adding that both intended to visit Turkey again.
NATO-member Turkey is reluctant to act alone to set up a safe haven inside Syria since protecting it from attack by Syrian forces would effectively mean military intervention in the 17-month-old revolt against President Bashar al-Assad.
Yet there is scant Western appetite for military action in Syria and no prospect of a U.N. Security Council mandate for it, given Russian and Chinese willingness to veto any such proposal.
Davutoglu was speaking shortly before going to New York to attend a U.N. Security Council meeting on Syria on Thursday.
The United Nations said on Tuesday that up to 200,000 Syrians could flee to Turkey alone if the conflict worsens.
"When we talk about figures in the hundreds of thousands, this problem no longer remains a problem of an internal conflict in any one country but becomes an international dangerous problem," said Davutoglu, reflecting Turkey's frustration at the refugee burden and the Security Council's disunity over Syria.
Prime Minister Tayyip Erdogan has said the council's failure to act indirectly supported oppression in Syria, criticising vetoes of U.N. resolutions by China and Russia as a "fiasco".
Reuters