Iran seeks support for Syria ceasefire plan at NAM summit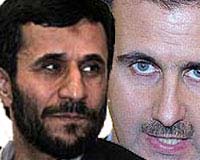 Iran will ask developing nations attending a summit there to back its call for a ceasefire in Syria, an official said on Wednesday, as Tehran seeks to be seen as a peacemaker in a region where its Arab neighbors often view it with suspicion.
Iran says the 120-nation Non-Aligned Movement (NAM) summit in its capital proves U.S. efforts to isolate it have failed. A resolution on Syria would help Tehran argue that its ties with Damascus are benign.
"Iran's proposal to the meeting of members of the Non-Aligned Movement to solve the Syria issue is to recommend a ceasefire and the implementation of national reconciliation talks in the country," deputy foreign minister Hossein Amir Abdullahian was quoted as saying by state news agency IRNA.
Tehran has steadfastly backed Assad since an uprising began last year, describing the president as a key part of its "axis of resistance" against Israel and Western influence in the Middle East.
Reuters