Abducted Kuwaiti freed by Lebanese security forces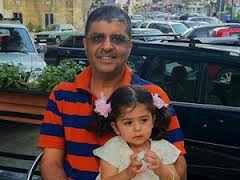 A Kuwaiti national was freed by Lebanese security forces from his captors Monday, two days after his kidnapping in east Lebanon, Lebanese Interior Minister Marwan Charbel has said.
Issam al-Houty, who was kidnapped at gunpoint by gunmen in Hawsh al-Ghanam in the eastern Bekaa region outside his house last Saturday, was found unharmed by security forces in a house Monday night, Charbel said.
According to Charbel Houty's captors escaped after leaving him alone in a house in the Bekaa region.
Charbel revealed that Parliament Speaker Nabih Berri played a major role in securing Houty's release.
Bassam Tleis, an official of the Amal Movement which is headed by Speaker Berri, said no ransom was paid for Houty's release even though the kidnappers had initially demanded a $2 million ransom.
Following his release, Houty was taken by security forces to Tleis' house in the village of Brital.
During a news conference at Tleis' house, Houty confirmed that no ransom had been paid for his freedom, but revealed that he was severely beaten by his kidnappers who accused him of funding the Syrian revolution against the regime of President Bashar Assad.
Houty thanked President Michel Suleiman, Berri, Prime Minister Najib Mikati and the Lebanese Army for their efforts to secure his release.
Houty also called Berri to thank him for his efforts to win his freedom, National News Agency reported.
Houty, who works as a director of an oil company in Kuwait, is married to Fawziyeh Arafat, a Lebanese, and they have a 3-year-old daughter.
Houty did not make any comments about his brother in law . Voice of Lebanon 93.3 reported on Monday that Lebanese security forces arrested Ghazi Khamis Arafat who was identified as the brother of Houty's wife on suspicion of involvement in the abduction.
Tleis reiterated during a TV interview that no money had been exchanged to secure Houty's release. "Regardless of the circumstances of the kidnapping, Houty was released as a result of pressure exerted and intensive contacts." He said
Tleis confirmed that he was ordered by Berri to work on Houty's case , adding "Houty's release is a confirmation of the unity of the Lebanese and Kuwaiti people."
The kidnapping took place days after more than 20 Syrians and Turks were seized by a separate Lebanese group which is trying to negotiate the release of a relative inside Syria.
Saudi Arabia, Qatar and other Gulf states advised their citizens last week to leave Lebanon because of signs violence was spreading there from neighbouring Syria, which is locked in a 17-month revolt.
Parts of Lebanon's Bekaa Valley have been beyond government control for years. A number of people have been kidnapped for ransom by criminal gangs there.
Photo: Kuwaiti citizen Issam al-Houty who was abducted in Lebanon is shown with his daughter