Defected Syrian VP Farouk al-Sharaa is in Jordan, report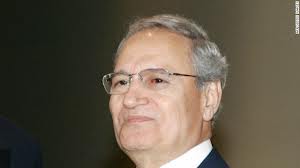 Syrian Vice President Farouk al-Sharaa has defected from Bashar al-Assad's regime and been in Jordan for days, sources told Al Arabiya Saturday.
Sharaa defected from the Syrian government in mid-August, according to statements by the Free Syrian Army. However, the Syrian state news agency, SANA, has denied the defection reports, citing statements by a spokesman for Sharaa
In the latest developments on the ground, Syrian rebels released a Lebanese hostage on Saturday who was among a group of Lebanese Shiite pilgrims kidnapped after crossing into Syria from Turkey in May.
A rebel source said the release of Hussein Omar, the first hostage to be freed, was a "goodwill gesture".
Lebanese Prime Minister Najib Mikati said he received a call from Turkish Foreign Minister Ahmet Davutoglu confirming the release of Omar.
"(Mikati) wished that Turkish authorities will continue its efforts to release all the kidnapped Lebanese in Syria as soon as possible," a statement from Mikati's office said.
Turkey has strong ties with the Syrian opposition, and most of the leadership of the rebel group the Free Syrian Army is based in Turkey. It also shelters army defectors and allows foreign funds and weapons to reach rebels fighting President Bashar al-Assad, according to several sources.
Al Jazeera news channel showed footage of Omar crossing on foot into Turkey accompanied by three men and carrying a small bag.
It quoted him as saying he was well treated and he urged Arabs to support the revolt against Assad.
The kidnapping of the Shiite pilgrims inflamed tension in Lebanon, a country divided between friends and foes of the Syrian armed revolt against Assad.
The kidnapping, with the abduction of another Shi'ite man this month in Syria, triggered abductions of Syrian activists in Lebanon in retaliation.
It revived memories of Lebanon's own civil war, reinforcing fears that the Syria conflict could trigger more instability in Lebanon, where Damascus has had a major influence over politics and security for decades.
Kuwaiti man kidnapped
Armed men kidnapped a Kuwaiti in eastern Lebanon on Saturday, a security official said, adding that the abduction did not appear to have a political motive.
The man, who lives in Lebanon, was seized from his car in the town of Howsh al-Ghanam in the Bekaa valley, the official told AFP.
"There are no signs that the kidnapping was politically motivated."
The official said there had been a number of kidnappings for ransom which are unrelated to political tensions or the conflict gripping neighboring Syria.
Nevertheless, such incidents fuel fears of Syria-related violence spilling over into Lebanon, where a Shiite clan kidnapped around 20 Syrians last week in retaliation for the abduction of a family member by a Syrian rebel group.
Kuwait and several other Gulf states last week ordered their nationals — who often holiday in Lebanon — to leave the country in the face of threats, particularly against Saudis and Qataris, whose governments are staunch opponents of the Damascus regime.
al Arabiya