SHARE Conference announced that Lebanon's capital Beirut will host the group's "internationally acclaimed" event in various locations around the city starting the first week of October, according to a press release issued on Friday .
SHARE Beirut is a weekend-long public, free and non-commercial hybrid event blending an Internet culture and technology related daytime conference with dynamic cutting-edge music festival by night. It will bring together hundreds of passionate people, forward-thinkers, cultural creatives, activists and artists from Lebanon as all around the world for talks and parties in 72 hours of powerful gathering to share ideas, knowledge and creativity.
WHAT IS IT ABOUT?
It's about understanding and celebrating Internet culture and all the aspects of open, decentralized and accessible forms of communication, exchange and creation. It's about empowerment of individuals and networking of like-minded people. It's about setting the values and new standards that will prevent any kind of oppression, censorship and surveillance for future generations. It's about understanding alternative economic, cultural and educational models. It's about Internet ecology and struggles to protect Internet as open and free territory for all of us. It's about energizing sub-cultural groups and praising diversity that these cultures are bringing. It's about promoting open access to software, hardware, information, knowledge, science, government, design and almost everything else that can be open. It's about sharing. It's about how to do it yourself. But mostly, it's about cats doing flips, birds flying over the moon and robots making biiips.
WHAT WILL HAPPEN?
During the 3 days of the conference Beirut will become the world's epicenter in exchanging progressive ideas and knowledge on Internet culture, society, technology, music and new media. The lectures and talks will be given by leading international stars in these fields, world-class bloggers and artists who will educate the audience on new forms of activism and approaches in using advanced technologies and the latest tools to create, influence and affect. Discussions will delve deep into the underground of the Internet subcultures and explore groups that fight for digital and human rights, free information flow and access, improving transparency, and protecting the privacy of fellow peers and residents. The event will be accompanied by an intensive music program, which will be simultaneously organized in several well-selected clubs and alternative venues in Beirut. Contributors and visitors who obtain one of 1500 unique free wristbands will get access to both day and night events where many local, regional and international artists will perform for audiences who will share vibes and energy to celebrate the Internet as open and free territory for all.
WHEN WILL IT TAKE PLACE?
From 5th to 7th of October (Friday, Saturday and Sunday) 2012.
Get ready and don't plan anything else for this weekend.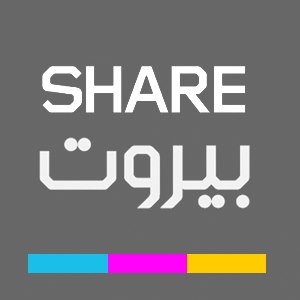 THE EVENT IS FREE, BUT DO I NEED TO REGISTER?
Yes. Even though the main venue is huge and several clubs are on board, capacity is limited, so it is important that you register for the event. Around 1500 unique wristbands will give access to over 80 talks, exhibitions, concerts and DJ sets, so we encourage you to register as quickly as you can. Moreover, we encourage you to contribute and help us make this event even better.
WHERE WILL IT TAKE PLACE?
Main conference venue is Solea V in Beirut – a dazzling and very hip venue promising to host large events, dripping with atmosphere. The center boasts a huge skylight, and an indoor tree under high ceilings. Night program venues, clubs and program are soon to be announced, so be sure to subscribe to the newsletter.
Location: Jisr el Wati, next to Jaguar Dealership Sin El-Fil
WHO ARE "Share"?
Share is organized by Share Foundation, nonprofit organization that is dedicated to protecting the rights of Internet citizens and promoting positive values of openness, decentralization, free access and exchange of knowledge, information and technology. The activities of Share Foundation are supported by cooperation and friendship with a wide network of various institutions, individuals and organizations such as State of Exit Foundation, Google, Vimeo, Mozilla Foundation, .Me, Erste Foundation, Institute for Sustainable Communities,Electronic Frontiers Foundation, Pirate Party, Flattr, Digitalna Agenda, Republica …
Click here for the program
Evention