3 more killed in sectarian fighting in Lebanon's Tripoli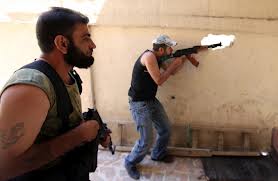 At least three people including an Sunni Islamist commander were killed on Friday in a fifth day of sporadic sectarian fighting in Lebanon's northern city of Tripoli triggered by the conflict in neighbouring Syria.
A Lebanese security source said the situation in Tripoli, where clashes between Sunni Muslims and Alawites have killed 16 people since Monday, was "alarming and dangerous … It is very likely that it will escalate this time".
Security sources said Sheikh Khaled al-Baradei, 28, a Sunni Islamist, was shot fatally in the neck by a sniper in the early hours on Friday, and two other identified men were killed.
The first security source said at least seven Alawite-owned shops in mainly Sunni districts had been torched. He said 41 people were wounded, including soldiers.
The Lebanese army deployed troops and tanks on Thursday morning to calm the streets and clashes appeared to die down in most areas before flaring again overnight.
Sunni Muslims in Syria form the backbone of the 17-month-old uprising against President Bashar al-Assad, part of the Alawite minority who are an offshoot of Shi'ite Islam. Tripoli's fighting has been along the same sectarian lines.
Gunmen from Tripoli's Alawite-populated Jabal Mohsen district have engaged in on-off skirmishes over the past week with Sunni fighters in the Bab al-Tabbaneh area.
The Lebanese government has distanced itself from the unrest in Syria for fear it might spill over because Lebanon's sectarian divisions are similar and Syria has powerful allies as well as enemies in its smaller neighbour.
Residents say political leaders in Tripoli agreed a ceasefire on Wednesday but sniping by both sides has continued.
Russia said on Friday it was concerned about the violence in Tripoli and called for "all sides to stop forceful action, to keep the ceasefire."
The Foreign Ministry called for problems to be resolved "constitutionally through a nationwide dialogue", but said there should be no outside intervention in Lebanese internal affairs.
Syria had far-reaching influence in Lebanon for decades. Assad withdrew Syrian troops from Lebanon in 2005 after 29 years but the powerful Shi'ite Muslim militant group Hezbollah remains one of its strongest allies in the country.
Russia is one of Syria's main allies and has blocked Western efforts to impose United Nations sanctions on Damascus.
Tensions between Alawites and Sunnis in Tripoli go back to the 1975-90 Lebanese civil war when Alawites sided with the forces of Bashar's late father, President Hafez al-Assad, against the Sunnis.
Reuters