Syrian War Plays Out Along a Street in Lebanon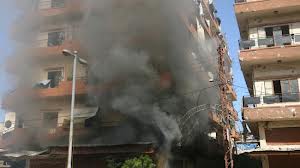 The Alawite snipers here fire from behind tires in bombed-out apartment buildings as posters of President Bashar al-Assad of Syria flap in the breeze. The Sunnis just down the hill set up their own gunmen behind sandbags near flags for the Free Syrian Army.
One thoroughfare divides them: Syria Street. And since Monday night, 13 people have been killed here in battles that are less about the street than about the country for which it is named.
"This will only end when the Syrian regime falls," said Abu Hamad, 45, a commander on the Sunni side with a long beard and new black Nikes. "We are waiting for Assad to go; he's the head and when he's gone" — he pointed toward the Alawite area — "the tail will die as well."
These two poor, adjacent neighborhoods have been defined by volleys of gunfire since at least the 1980s, when Syria occupied Lebanon and Sunnis resisted. In both areas, faded posters honor fighters killed long before Syria erupted 17 months ago.
But the civil war next door has changed the dynamic. Damascus is only a two-and-a-half-hour drive away, and each side here now invokes Syria to explain the intensified attacks and counterattacks that have become increasingly common here over the past few months.
The Alawites, a Shiite offshoot to which President Assad belongs, say they feel more threatened. Ali Feddah, 30, a spokesman for the main Alawite political party in Lebanon, accuses Syrian rebels of coming into this city to "practice against us." In an interview on Saturday in a windowless office behind a clothing store on the main street of the Alawite area, Jabal Mohsen, Mr. Feddah predicted that the fighting would escalate because Sunnis had been provoking Alawites with insults.
"Things are bad and getting worse," he said, folding his hands, revealing a missing finger. Militants guarded the door. A picture of his brother, killed recently here, hung on the wall. "Fighting in the streets is not something we want to be dragged into."
But whether by intention, zeal or accident, the war in Syria is increasingly being woven into Lebanon, and vice versa. Hezbollah, the Shiite militant group, has been accused of fighting in Syria on behalf of the Assad government; some of the Sunni commanders here in Tripoli boast that several hundred of their own men have gone there to fight Mr. Assad's forces.
To experts, none of this is a surprise. Syria and Lebanon have always lived a porous existence; centuries ago, Tripoli was a port for Damascus, and Syria has long considered Lebanon to be a creation of European colonialism that should not exist as a separate country.
How well this nearly stateless country can handle the pressure from Syria's war and escalating sectarianism is a growing concern. In New York on Wednesday, the United Nations political chief, Jeffrey D. Feltman, told the Security Council that as the crisis in Syria has deteriorated, "the situation in Lebanon has become more precarious."
Even Hassan Nasrallah, the leader of Hezbollah, has issued a warning. "Reconsider the idea that says there is a definite situation in Lebanon which is under control," he said Friday, in a message that could also be read as an effort to distance Hezbollah from blame. He added, "Let everyone assume his responsibility."
Sunni commanders here seem eager to fight. They seemed to know that this part of Tripoli would explode this week, with the end of Ramadan and its bookend holiday, Id al-Fitr. And that is exactly what happened. A few people were killed Monday and Tuesday, as mortars, gunfire and grenades shot back and forth. Several more died Wednesday, and at least one person died Thursday before a cease-fire took hold around midday.
In the Sunni neighborhood of Bab al-Tabbaneh, gunmen said they had put down their weapons out of respect for the Lebanese Army, which had rumbled in with troop carriers and promised to keep both sides under control.
That was not entirely the case; the pop-pop of gunfire could be heard every half-hour or so for much of Thursday afternoon. But it was not enough to provoke a major response.
A block from the front line of Syria Street, Abu Hamad, the Sunni commander, and his men drank water and checked the volume on their radios. There was no traffic or work. A woman in a black abaya smoked a cigarette and asked some militants for news just a few feet from a road that — like all the roads facing the Alawite area — had a large tarp strung across it to obscure the sightlines of snipers a few hundred yards away.
The neighborhood was ready for battle. The men were confident. They said that they had plenty of ammunition and that the clashes, only occasional before the Syrian uprising, would inevitably become common.
At one point, a roundish man with a ponytail began to brag about fighting Mr. Assad's forces in Homs a few weeks ago. Several blocks away, the commander of another area — a green-eyed leader who called himself the Captain — said that around 300 men from the neighborhood had gone to Syria since the conflict there started. "Seven of them died and were buried there," he said. There was no sadness in his voice, only pride.
His claim about fighters was impossible to verify. But it seemed credible in an area where the flag of the Free Syrian Army and banners with Islamic slogans have replaced posters for Lebanese political leaders.
These days, Syria is the syringe pumping adrenaline into the entire region. Here in Lebanon's second largest city, the costs of the violence are clear, and not just in the posters of young martyred men with shaved heads who took up arms out of passion or persistent unemployment.
The toll can also be seen in the intensive care unit of the Islamic hospital in the center of the city, where on Thursday afternoon, Mehdi Sharham, 16, lay motionless except for the occasional twitch of his long dark eyelashes. On Wednesday, his family said, he was outside a sweets shop talking to some friends when a stray bullet struck him in the neck. He was paralyzed immediately.
His father, Mosbah Sharham, said Mehdi was an honors student, a quiet boy who always hated guns and loved soccer. His doctors say he will never walk again.
"We have nothing to do with all of this," Mr. Sharham said, "and here we are paying the price for their differences."
NY Times