Lebanon FM: No reason to expel Syria's envoy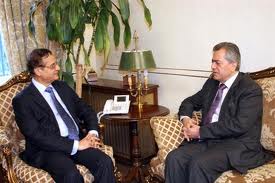 Foreign Affairs Minister Adnan Mansour told Al-Joumhouria newspaper on Thursday that there is no reason to expel Syria's envoy to Lebanon Ali Abdel-Karim Ali or recall the Lebanese ambassador to Syria .
He was responding to repeated demands by March 14 opposition to expel him and recall Lebanese envoy.
"There is nothing that warrants the expulsion of the ambassador or the withdrawal of Lebanon's ambassador to Syria because of the lack of convincing reasons and motives to do so," Mansour said
The March 14 coalition described the Syrian embassy as a center for the administering the bombings and abductions in the country. March 14 also accused Syria of instigating the latest clashes in north Lebanon in a bid to divert attention away from the 18-month uprising against the rule of President Bashar Assad.
The Phalange Party's youth department held a demonstration outside the Foreign Ministry Wednesday displaying posters that called on the Syrian ambassador to "respect us or leave."
Mansour comes from the Shiite Muslim Amal Movement party which, along with the militant Hezbollah group, supports the embattled Syrian president .
The current Lebanese government is dominated by Hezbollah and was reportedly made in Syria.
Mansour has been accused on several occasions of acting on orders from Syria , but since Hezbollah dominates the cabinet prime minister Najib Mikati cannot fire him.