Lebanon army, ISF to join efforts on recent kidnappings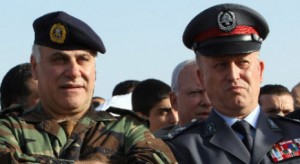 Finally the Army and the Internal Security Forces leadership will meet to coordinate their joint efforts in arresting those involved in the latest kidnappings of Syrians and Turkish nationals, According a report by An Nahar newspaper.
The newspaper said the meeting was ordered by President Michel Suleiman and will be held at the Defense Ministry in Yarze on Wednesday morning to investigate the identity of the people who participated in the recent kidnappings and hand them over to the competent judicial authorities.
This comes after Suleiman condemned on Tuesday the series of kidnappings, demanding the judicial authorities to "take immediate action" and issue arrest warrants against the perpetrators.
Al-Meqdad clan has claimed the abduction of around 20 Syrians and a Turkish national in retaliation to the rebel Free Syrian Army's kidnapping of a family member, Hassan al-Meqdad, in Damascus last week.
However the clan said it was not responsible for the disappearance of a second Turkish citizen. But according to local reports the relatives of the 11 Lebanese Shiite pilgrims who were kidnapped last May in Aleppo province on their way back from Iran, kidnapped the second Turkish national
Meanwhile, a ministerial committee tasked with following up the issue of the kidnapped Lebanese Pilgrims in Syria held its second meeting on Tuesday.
Interior Minister Marwan Charbel, who traveled to Turkey along with General Security chief Maj. Gen. Abbas Ibrahim last week, told al-Liwaa newspaper that his second visit to Ankara hinges on the Turkish authorities' efforts in gathering information on the whereabouts of the pilgrims.