Ethiopia's prime minister Meles Zenawi is dead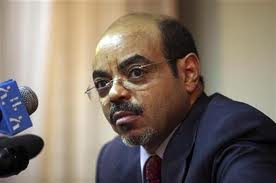 Ethiopia's prime minister Meles Zenawi, 57 is dead according to Ethiopian TV.
He has not appeared in public since June, and the secretive nation has released little information about his whereabouts, prompting rumors and opposition claims that he is dead or facing a life-threatening illness.
He came to power two decades ago and was considered a strong force in the frequently volatile horn of Africa.
After weeks of speculation, the government held a news conference last month and announced he got treatment for an unspecified illness.
Zenawi is "recovering well, resting and performing his duties as prime minister and head of state," government spokesman Bereket Simon reiterated last Wednesday. He declined to give exact details on Zenawi's whereabouts or the nature of his illness.
Zenawi's absence was more evident last month when Ethiopia hosted an African Union summit in its capital of Addis Ababa. Zenawi, a key player in talks on the tensions between Sudan and its rival neighbor South Sudan, did not attend.
According to a government spokesman Zenawi died abroad without disclosing any details about the country or his illness.
There were reports lat month that he entered a hospital in Brussels, Belgium