Geagea urges Suleiman, Mikati to expel Syrian envoy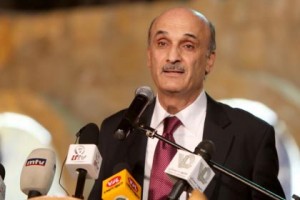 Lebanese Forces leader Samir Geagea on Monday called on President Michel Suleiman and Prime Minister Najib Mikati to "expel Syrian Ambassador to Lebanon Ali Abdel Karim Ali , ask the Lebanese ambassador to Syria to return to Lebanon, suspend the Lebanese-Syrian Higher Council as well as all the security agreement with Syria."
The LF leader also urged Suleiman and Mikati to file a complaint with the Arab League and the United Nations Security Council against the Syrian regime's plan to cause strife in Lebanon.
Geagea also reiterated that Hezbollah was behind the kidnapping of Syrian nationals in Lebanon and called on Suleiman and the cabinet to give orders to the Lebanese army and security forces to find and release the abductees and to punish the abductors.
Praises Suleiman's stance
Geagea described the statements of President Suleiman regarding the issue of former Information Minister Michel Samaha as "honorable."
Suleiman said on Saturday that Syrian President Bashar al-Assad should call him and explain the transfer of weapons from Syria to Lebanon in the car of former Information Minister Michel Samaha.