Beirut airport road was reopened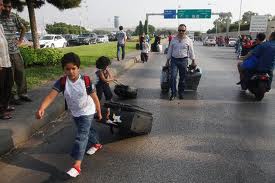 The airport road was opened on Thursday, after armed relatives of the 11 pilgrims detained in Syria blocked it on Wednesday, National News Agency reported.
The report added that security forces were heavily deployed in the area.
Meanwhile, young men continue to block the Rashaya-Masnaa road with burning tires and rocks to protest over blocking of the airport road on Wednesday night.
Riots erupted after unverified television reports claimed the Lebanese Shiite pilgrims abducted in Syria last May were killed in Wednesday's air strike on the northern town of Aazaz.
Pilgrims alive and well
Hayat Aawali, the organizer of the pilgrimage trip during which 11 Lebanese Shiite men were abducted in Syria, said that the men were alive and in good health.
"We contacted the kidnapper, 'Abu Ibrahim', and he reassured us that that all the 11 men are well," Aawali told Now Lebanon on Thursday.
She quoted "Abu Ibrahim" as saying that the kidnapped men were not in Aleppo's Aazaz when it was shelled by Syrian regime forces but were in the "Tal al-Ahmar camp between Syria and Turkey."
Now Lebanon
Photo: Passengers leave the international airport on foot after the main road leading to the airport was blocked, in Beirut Aug 15, 2012. The relatives of the 11 Lebanese Shi'ite pilgrims that were abducted in Syria last month blocked the road leading to Beirut's Rafik Hariri International Airport, National News Agency (NNA) reported on Wednesday