Syria: 4 of the 11 kidnapped Lebanese killed in an airstrike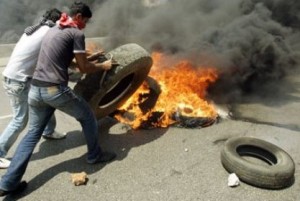 Four of the Lebanese Shiite pilgrims who were kidnapped in Syria last May have been killed in an airstrike by the Syrian air force on the Aazaz region in Aleppo, according to a report by al-Jadeed television on Wednesday.
The report added that the building where the pilgrims were being held was damaged during a MiG-29 warplane strike.
The remaining seven pilgrims were wounded in the strike and have since been taken to a hospital on the Turkish side of the border with Syria according to a report by LBC television.
The spokesman of the kidnappers, Abu Ibrahim was also critically wounded , al-Jadeed reported and also said that 15 of the kidnappers were killed in the raid.
Last May, 11 Shiite pilgrims were abducted in Syria's Aleppo while returning from a pilgrimage in Iran. Later in the month, a previously unknown armed group calling itself the "Syrian Revolutionaries—Aleppo Province" said that it was holding the group, while the Free Syrian Army had repeatedly denied its involvement in the abduction.
Update: The relatives of the 11 kidnapped Lebanese told LBC that they hold Saudi Arabia, Qatar Turkey and Syria responsible for what happened to their loved ones and said none of these 4 countries should have an embassy in Lebanon
Update: The relatives of the 11 kidnapped Lebanese have set up road blocks on the airport road to protest against the killing of their their loved ones in Syria