Jumblatt: topple Assad to prevent Syria breaking up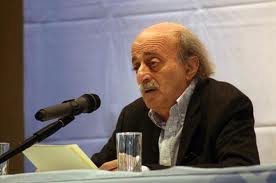 Foreign states must do more to help Syrian rebels defeat President Bashar al-Assad and spare the country an "endless civil war" and possible partition, a leading politician in neighboring Lebanon said on Tuesday.
Walid Jumblatt said the battle for Syria hinged on foreign backing to the rebels, who he believes can "easily" expel Assad from Damascus if the necessary weapons are supplied to their forces in the south, not far from the capital. He said the failure to provide such weapons was hypocritical and "fishy".
"The more you accelerate the downfall, the more you save Syria from a possible partition," Jumblatt, head of Lebanon's most influential Druze family, said in an interview at Mukhtara, his family mansion in the mountains south of Beirut.
Asked what such a break-up would entail, he said: "It would look like an endless civil war in Syria."
Jumblatt is the latest regional leader to raise the specter of civil war leading to the division of Syria along ethnic and sectarian lines that could separate the Alawite minority to which Assad belongs from a mainly Sunni population, while creating new boundaries between Syrian Kurds and Arabs.
King Abdullah of Jordan last week said Assad could seek to establish an Alawite enclave if he cannot keep control of the whole country, describing it as the "worst-case scenario" in a region whose modern borders were drawn less than a century ago.
But Jumblatt, a leader during Lebanon's civil war, said he was "not that pessimistic" about Syria's future, saying nationalist sentiment in the Syrian opposition should help hold the country together. "But they have to be helped," he said.
"Up until now, they are just begging for help, and the more it goes on, the more you have the danger of sectarian bloodshed," he said. "The Syrians have enough awareness, enough knowledge and enough power to keep Syria united," he said.
A leader of one of Lebanon's smaller communities, Jumblatt's stance towards Syria has shifted more than once in recent years as he adjusts to shifting power dynamics at home and abroad.
He was a leading voice in the anti-Syrian movement that sought to curb Assad's influence in Lebanon before and after the 2005 assassination of Rafik al-Hariri – a killing he still blames on Syria. Following the Hariri assassination, he publicly accused Syria of killing his father, Kamal Jumblatt, in 1977.
Jumblatt then moderated his attitude after a rapprochement with Syria's allies in Lebanon, including the powerful Hezbollah, a Shi'ite party and guerrilla group backed by Tehran.
"HUGE PRICE"
Jumblatt's party is part of a Lebanese coalition government which includes Syria's allies and which has adopted a cautious, neutral position towards the Syrian crisis.
But he has reverted to his position of hostility towards Assad. In March, he marked the 35th anniversary of his father's assassination by laying the Syrian rebel flag on his grave.
Jumblatt said the Syrian rebels were in dire need of long-range anti-tank missiles and anti-aircraft missiles to counter what he described as Assad's "scorched-earth" strategy. He described the apparent downing of a Syrian fighter jet this week as "a good sign", though not enough.
"If you provide weapons to the rebels in Deraa, you can get him (Assad) out of Damascus easily," he said, referring to a town near the border with Jordan where the uprising began 17 months ago.
He accused the "Friends of Syria", which groups the United States, Saudi Arabia and Qatar, among many others, of hypocrisy for not doing more to help, saying they had used Russian and Chinese opposition to U.N. measures as an excuse for inaction.
"The Syrian people will overcome and they will succeed, (but) with a huge price because of the indifference, in a way, of the international community, the hesitancy of the so-called Friends of Syria," Jumblatt said.
"It looks like they are leaving the regime free to kill more people, slaughter more people and destroy Syria."
He said the length of the conflict now depended primarily on support to anti-Assad forces, saying there was little more that Iran and Assad's other backers could do to prop up his rule.
"I am asking for specific weapons (for Syrian rebels): anti-tank and anti-aircraft weapons – long-range anti-tank weapons.
"The B-7 is short-range, you can of course destroy a tank with the B-7, but you have to be very, very close," said Jumblatt, referring to the type of rocket-propelled grenade being used by the rebels.
Jumblatt has urged the Druze community in Syria to join the rebellion and criticized members of the sect who have helped Assad during the crackdown. He cited at least one example of a Druze officer killed while fighting Assad's forces, saying this was positive, but insufficient. "The mood has changed," he said.
Reuters