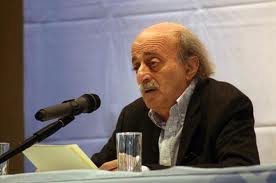 MP Walid Jumblatt's relations with Hezbollah appear to be deteriorating. He said during an Iftar dinner in the Chouf region of Mt Lebanon over the weekend that his alliance with Hezbollah under the slogan of 'Army, people and resistance,' cannot continue at the expense of the state, [Lebanese] Army, security and economy."
The Progressive Socialist Party leader praised President Michel Suleiman last week who said the Army should have no partner in defending security and sovereignty.
But Hezbollah chief Sayyed Hasan Nasrallah said last week that Hezbollah could not fall under the command of the Army, and decried the ability of the sate to resolve basic challenges.
The low point in Jumblatt's relations with Hezbollah was reached last week when the draft electoral law based on proportional representation was endorsed by the government, despite his objections.
Jumblatt strongly believes that the new law will result in a victory for the Hezbollah led March 8 camp in future elections. He warned during the weekend.
"If March 8 wins the 2013 parliamentary elections, I do not think there will be any room for a state of law and order in Lebanon. Preserving security will not be exclusive to the army and security forces. I also do not think there will be an independent judiciary, president and army,"
Commenting on the Syrian crisis , the staunch critic of President Bashar Assad said the violence in Syria surpassed "all imagination" and lashed out at Russia, China and Iran for supporting the Syrian regime calling them the "axis of evil "