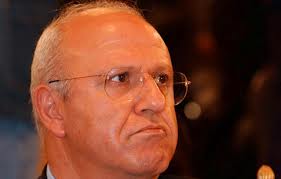 LBC television reported on Sunday that the key eyewitness, whose cooperation led to the detention of former Information Minister Michel Samaha, was Milad Kfoury and he is presently outside Lebanon because of security concerns for his safety.
LBC report also said that Kfoury has been known to use two other names, Zohair Nahhas and Amjad Sourour, and that he hails from the Lebanese village of Polonia located in the northern Metn district.
LBC also reported that Kfoury established relations with different individuals and groups, including Samaha and the Internal Security Forces (ISF) Information Branch.
In addition, he had established his own security company that offered protection services for Finance Minister Mohammad Safadi from 2005 until the third week of July 2012.
The report also said that Kfroury had been working in the security sector since 1983 and "he had a good relation with late former minister Elie Hobeiqa, but he was not one of his bodyguard ." Hobeiqa , who was closely associated with the Syrian regime was killed in January 2002.
As for the process which led to Samaha's arrest, LBC cited an unnamed source as saying: "Due to the relation that existed between Kfoury and Samaha, he contacted Kfoury in order to execute the bombing] plan."
Samaha's arrest was connected to a seizure of explosives that were to be used mostly in northern Lebanon, a region of tensions linked to the Syrian conflict.
The source added that "Kfroury was held aback when Samaha talked about explosions and for this reason he went to the [ISF] Information Branch and [revealed the conversation he had with the former minister]."
According to the source, the head of the ISF Information Branch, Wissam al-Hassan, requested Kfoury to follow up on the issue and "provided him with the means to record video tapes."
"Kfoury began to record his meetings and [activities] with Samaha, [including the] operation of moving the explosives from Samaha's car [that was parked in the building where the former minister lives in Ashrafieh] to Kfoury's."
LBC cited a another source as saying that "Samaha's confessions are very clear, and based on them Judge Sami Sader [indicted] Samaha, Syrian official Ali Mamluk and [a] Syrian Brigadier General [identified only by his first name] Adnan."
On Saturday, Judge Sami Sader charged Samaha and two Syrian army officers with setting up an armed group to incite sectarian strife through "terror attacks."
Now Lebanon
This error message is only visible to WordPress admins
Error: No connected account.
Please go to the Instagram Feed settings page to connect an account.