Children killed in bus attack in Syria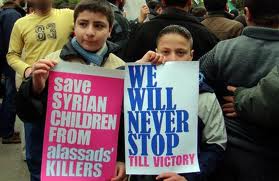 Already devastated by weeks of constant attacks this year, the Syrian city of Homs faced new terror Sunday as pro-regime forces executed 10 young men in the dissident stronghold, opposition activists said.
Forces loyal to President Bashar al-Assad stormed the Shammas neighborhood of Homs and gathered 350 young men in the square of a mosque, said the Syrian National Council, an umbrella opposition group.
"The military began calling the residents from the mosques surrounding the Shammas neighborhood that all young men need to come down to the streets with their hands behind their heads," the SNC said.
Another opposition group, the Syrian Observatory for Human Rights, said three children were killed when regime forces fired on a minibus carrying residents fleeing the Shammas neighborhood.
But Syria, on state-run TV, blamed "terrorists" for that attack, saying three people, including two children, were killed on the bus.
In the nearby city of Rastan, several people were killed or injured by "very intense rocket shelling," the opposition Local Coordination Committees of Syria said.
"Residents are appealing for intervention to break the siege of the disaster-stricken city, which has no access to any of life's essentials including bread, water, baby formula or electricity," the LCC said.
An activist in Rastan posted a message on Skype
Across the county, at least 90 people were killed by midday Sunday, including 24 in Homs, the LCC said. Thirty-eight were killed in Damascus and its suburbs, the group said.
Regime forces shelled at least five cities Sunday morning, including the commercial metropolis of Aleppo and the area of Daraa, where anti-government protests began in March 2011, the LCC said.
In Aleppo, fierce fighting raged again Sunday between regime and rebel fighters, opposition activists said.
The regime claimed progress in its battle against "terrorists" in the Aleppo area.
"The special authorities answer(ed) the plea of the residents of the Sufeira neighborhood in Aleppo and clashed with the terrorists, destroying their five vehicles and killing a dozen of these terrorists," Syrian state-run TV reported.
The state-run Syrian Arab News Agency reported that North Korea had expressed its support for the regime. North Korean leader Kim Jong Un and Foreign Minister Pak Ui Chun "described the U.S. and its Arab agents' policies against Syria as 'state terrorism,'" the report said.
On Saturday, the government announced the swearing in of a new prime minister, Dr. Wael al-Halqi. SANA said al-Halqi is a former chief of Syria's doctors and was the country's minister of health.
The SANA report made no mention of former Prime Minister Riyad Hijab, who resigned Monday, citing the "killing and terrorist regime." His spokesman said Hijab had no choice but to take the job because the regime would have killed him if he had declined.
Meanwhile, in neighboring Lebanon, a military court charged two Syrian army officers Saturday with attempting to form an armed group to spread sectarian violence through plotting political and religious assassinations, the state-run National News Agency reported.
The court said Syria's Brig. Gen. Ali Mamlouk, the newly appointed head of the national security bureau, and a colonel known only as Adnan provided improvised explosive devices to Lebanese politician Michel Samaha, who faces the same charges.
Though the Syrian civil war rages on with no end in sight, U.S. Secretary of State Hillary Clinton said Saturday the United States would start to develop contingency plans with its Turkish allies in the event that the embattled Syrian regime collapses.
Her announcement in Istanbul came 17 months into an escalating crisis that has claimed more than 17,000 lives and forced an estimated 150,000 refugees to flee into neighboring nations, including Turkey, which is hosting 50,000 people.
"There is a very clear understanding about the need to end this conflict quickly, but not doing it in a way that produces even more deaths, injuries and destruction," Clinton said after talks with her Turkish counterpart, Foreign Minister Ahmet Davutoglu.
Clinton said the two countries have agreed to set up a working group to help coordinate their response to the crisis going forward.
"We have been closely coordinating over the course of this conflict, but now we need to get into the real details of such operational planning. And it needs to be across both of our governments," she said. "Certainly our two ministries are coordinating much of it, but our intelligence services, our military have very important responsibilities and roles to play."
Turkey, which is in the process of building four more refugee camps, has long been calling for more U.S. support.
"We would like to see more support from the U.S. on Syria," said a senior Turkish government official. "Sometimes we feel very much alone."
He spoke on condition of anonymity because he is not authorized to speak to the media.
Turkey also has hosted Syrian groups opposed to al-Assad's regime and is a vital transport route for opposition fighters and weapons into Syria.
Clinton announced an extra $5 million in aid for the United Nations refugee agency. Washington was already providing $25 million in nonlethal aid to the Syrian opposition, including communications equipment.
Meanwhile, the Arab League must decide its next move following the resignation of its envoy to Syria.
After months of diplomatic efforts, Kofi Annan stepped down as the U.N.-Arab League special envoy to Syria this month as reported bloodshed continued spiraling out of control.
Arab League foreign ministers were scheduled to meet in Saudi Arabia on Sunday, but the meeting was postponed, Saudi official media reported.
CNN